The Proprietors bar + table, An Evening of Cuisine, Cocktails, and Conversation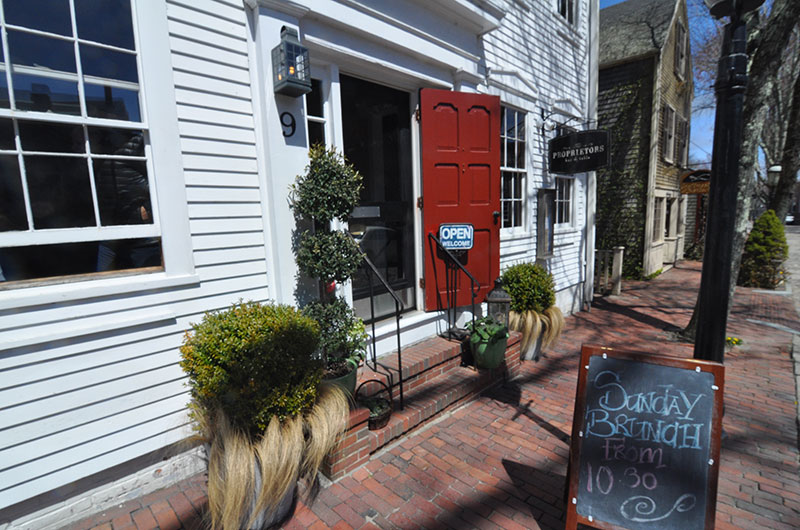 Even when we aren't working, we have a particular way of eating when we go out to dinner that we call "featured restaurant style." We share everything. Sometimes we pass the plates; sometimes we just put them in the middle of the table and tuck into a bit of this and a bit of that. It's a very sociable approach, conducive to merry conversation that makes the cuisine the center of attention. Plus it's great way to taste everything!
Offering more than two dozen widely varied choices of intensely flavorful dishes, the menu at Proprietors bar & table is ideal for this style of dining. We suspect owners Michael and Orla LaScola would be more inclined to call it "Small Plates" or "Tapas Style," but whatever you call it, it's a fun night out!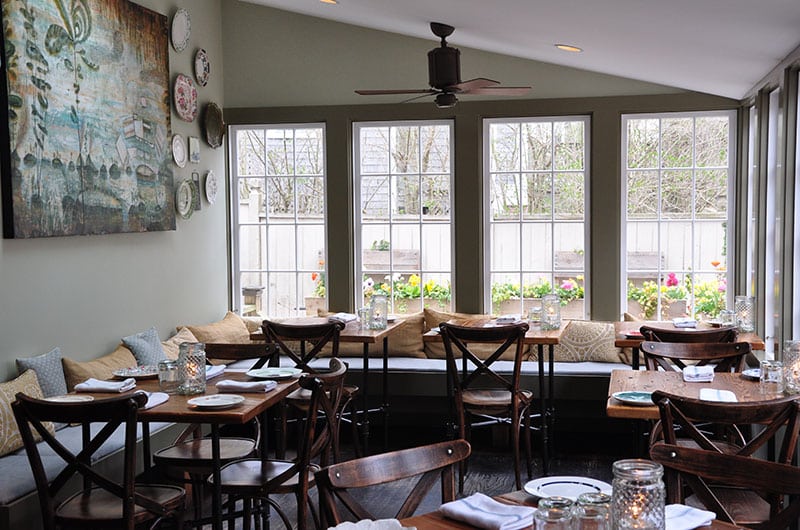 Situated in one of Nantucket's historic homes in the heart of downtown, Proprietors gives nod to island history in its name, its interior design and its decor. There are several dining areas, some quite intimate and perfect for a romantic evening, and all with plenty of exposed brick, woodwork, and brica- brac. We love the light and airy "Green Room," an add-on toward the back of the restaurant with windows lining two walls.
The LaScolas are veteran restauranteurs, having operated American Seasons for several decades before moving into town to open Proprietors. The talented Chef Michael LaScola brings his wellspring of culinary creativity, Orla LaScola her expertise as an award-winning sommelier. They have assembled a crack culinary team with passion to match Chef LaScola's, and in the front of the house the convivial beverage expert Anna Worgess and an experienced serving staff combine warmth and professionalism to make Proprietors a fun destination for cuisine, cocktails, and conversation.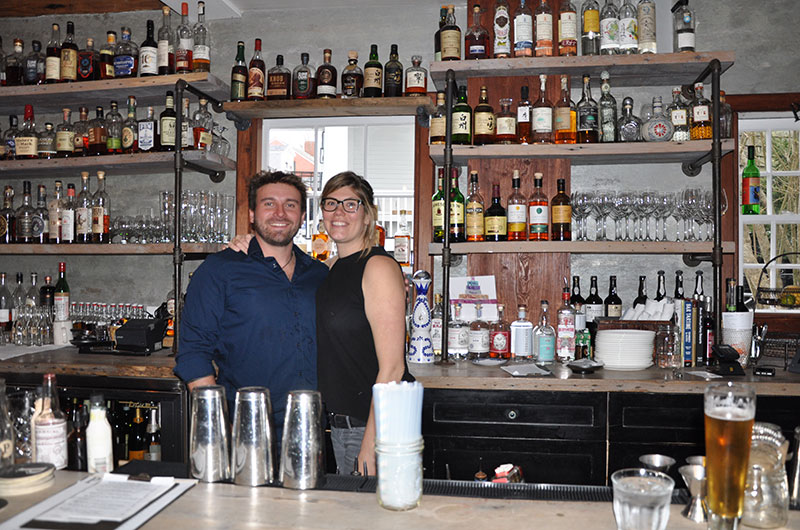 The craft cocktails designed by Worgess have quite a following on Nantucket. Blended with carefully curated ingredients, many housemade (including the gummy bear garnishes on the Brooklyn and the hibiscus and lychee syrup in the Draft Cocktail), the cocktails listed on the tall blackboard at the end of the bar are the ones to choose for a new experience. But even "the usual" can get unusual at Proprietor's: for example their house bottled gin & tonic infused with violets and served by the bottle. Several of the craft cocktails now offered are prepared with hard-to-find or seasonal ingredients, making them "limited editions," which, Worgess says, helps her stay creative.
If you prefer wine with dinner, Orla's selection of international bottles highlights small batch producers, so even the most jaded oenophile may discover a new favorite at Proprietors. With many wines offered by the glass, you can pair a different choice with every one of Chef LaScola's small plates.
Dining at Proprietors is like enjoying a tasting menu but you get to choose the tastes. With a trusted server (thank you, Gail) to assist us in our selection, we started with a variety of "snacks."
 Click on images to enlarge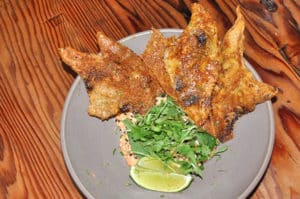 First out was a plate of Crispy Chicken Skin. Yes, chicken skin: the entire reason your family hovers around the kitchen while the roast chicken is resting. Only it's better than the bits you manage to pinch off at home when no one is watching. These were broad strips dusted with pad thai seasoning, crisp as chips, and so good that we'd nearly finished the plateful before we remembered to try the tasty chili mayo dipping sauce.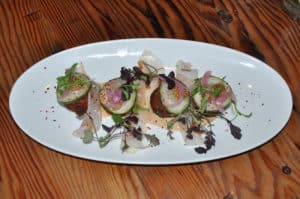 With several of our team Pennsylvania expats, we are particular about our pretzels. Chef LaScola's Pretzel Fritters go far beyond the golden twists we love. These pretzel rounds are set on a schmear of beer cheese, each topped with a cool slice of cucumber and mustard seed for pops of heat.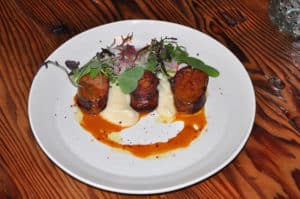 Shavings of smoked pork jowl are served between. LaScola's Housemade Chorizo, another "snack" was also superb! The sausage had more flavor than heat, and we loved the enhancement of a slightly smoky brandade and the contrast of a crisp, chilled fennel salad (suggested pairing: Full Sail Session Lager).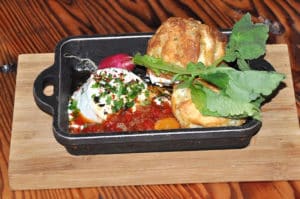 Our favorite snack of the evening was the Vermont Crottin Goat Cheese, a testament to the difference small farm sources can make. Presented warm on a small cast iron casserole, the cheese is snuggled next to a slightly sweet bell pepper and onion jam, with a pair of freshly baked, flaky chive biscuits (suggested pairing: Louis de Grenelle Sparkling Rose of Cabernet Franc).
Omnivores all, our team appreciates the challenge of dining out as vegetarian, so we were pleased to see nearly a dozen menu choices for this lifestyle and delighted to discover that Chef LaScola puts the same passion and creativity into these sensational choices.
The English Pea Toast was better any bruschetta-style dish we've tasted. Freshly baked sourdough is topped with a thick layer of crushed peas topped with dollops of tangy labneh, and finished with a sorrel salad and sliced kumquats. Approaching it took some planning, but the medley of vibrant flavors was well worth it! (suggested pairing: Cocktail #9: Seasonal House-bottled G&T : Ethereal Gin+Violet Syrup+House Lemongrass Tonic+Violet Bitters)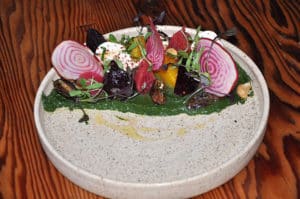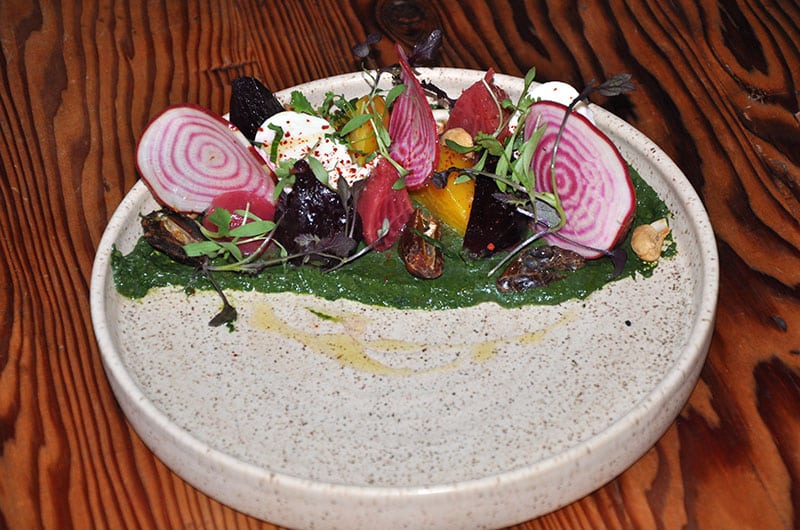 The beauty of the Beet Salad was second only to the subtle sweet flavors of the golden, red, and purple beets arranged with delicate buttermilk mozzarella, cashews, and dried dates (suggested pairing: 2015 Les Vins de Vienne "Les Cranilles" Cotes du Rhone).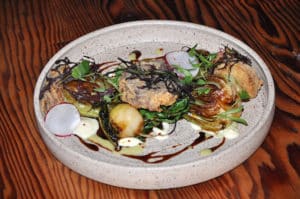 We nearly had to pry the dish of Baby Bok Choy, grilled, served with tempura shiitake, caramelized baby turnips, and drizzled with a flavorful yakitori sauce from the hands of a teammate who declined to share. (suggested pairing: 2014 Jean-Paul & Benoit Droin Chablis)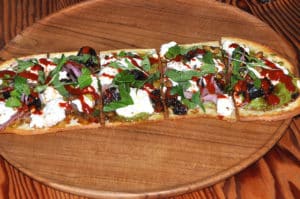 As we worked our way down the menu at Proprietors, the dishes increased in heartiness. The Flat Bread, another vegetarian choice, would be too much for one but is too good to stop at one slice. The housemade bread on which this is built is soft enough to absorb some of the luscious flavors but firm enough to support the generous topping of ricotta, herb tahini, dried figs, pistachios, spicy harissa, and mint. The different tastes and textures combine to create an exuberant ensemble. We're definitely coming back for this! (suggested pairing: 2014 Priest Ranch Grenache Blanc, Napa Valley)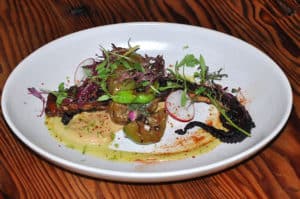 If you're looking for a more typically sized entree at Proprietors, read the menu from the bottom up. We were impressed by the tenderness and taste of the Spanish Octopus, its ocean-fresh flavor paired with earthy delights of a robust tomatillo salsa and charred shishito pepper. (suggested pairing: Cocktail #7: Mezcal+Ancho Reyes+Pineapple Syrup+Lime-Jalapeno Salt)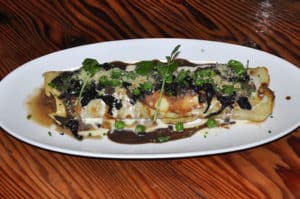 Chef LaScola takes inspiration from both Italy and France for his Cannelloni of Braised Short Rib, its meaty filling wrapped in a delicate crepe and topped with taleggio "fondue," sweet peas, and black trumpet mushrooms. (suggested pairing: 2014 Merryvale Cabernet Sauvignon, Napa Valley)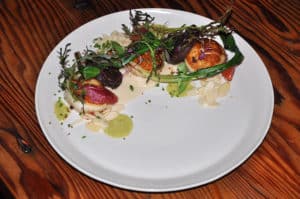 In the spirit of the usual being unsual at Proprietors, the dish simply called Scallops is a stunning interplay of delectable elements: plump sea scallops perfectly seared, crusty rounds of morcilla sausage, juicy segments of blood orange, slivered almonds, and spring ramps on a white bean puree (suggested pairing: The Bruery "Saison Rue" Farmhouse Ale).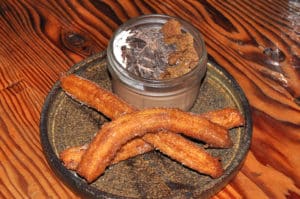 Every evening a handful of desserts are offered that usually include a Root Beer Float and a Sundae or Banana Split. We shared a rich Chocolate Pot de Creme topped with ginger snaps, chocolate bits with cinnamon churros on the side …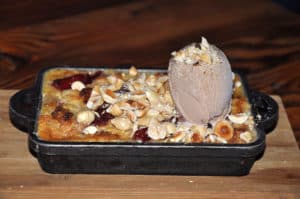 … and a lucious Roasted Strawberry Brioche Bread Pudding.
If you've dined a bit too well, as we did, you might want to drink dessert. Proprietors bar & table offers a wonderful whisk(e)y selection, American bourbon and rye, especially including a range of Pappy Van Winkles, and many options for aged Japanese whisky. And if you're feeling adventurous, try one of their many bittersweet amari.
We're looking forward to another evening of cuisine, cocktails, and conversation at Proprietors, returning to share the 18+ dishes we didn't try and perhaps repeating the small plates we loved.
The Proprietors bar & table
9 India Street • Reservations: 508-228-7477
proprietorsnantucket.com
Dinner from 5:30 pm • Sunday Brunch 10:30 am to 2:30 pm
Prices range from $14.50 to $38
vegetarian options • full bar • credit cards accepted • first floor accessible