Escape into Luxury, TOPPER'S at The Wauwinet
As we drove the from town, past Moors End Farm, past the Life-Saving Museum, and down the winding Polpis Road on a sparkling Nantucket evening last week, we slowly let go of the tensions of the day. Eight miles is a long way to travel on Nantucket, but this is such a pretty drive that we were a little disappointed that we arrived so quickly at the Wauwinet Gatehouse, entry to the wild and beautiful Coskata-Coatue Wildlife Refuge.
Here, between the bay and the ocean near the northern tip of Nantucket, is nestled the island's most sophisticated and civilized inn and restaurant, The Wauwinet. It's a study in contrasts, this luxurious escape just a few yards in any direction from the untamed beauty of Nantucket.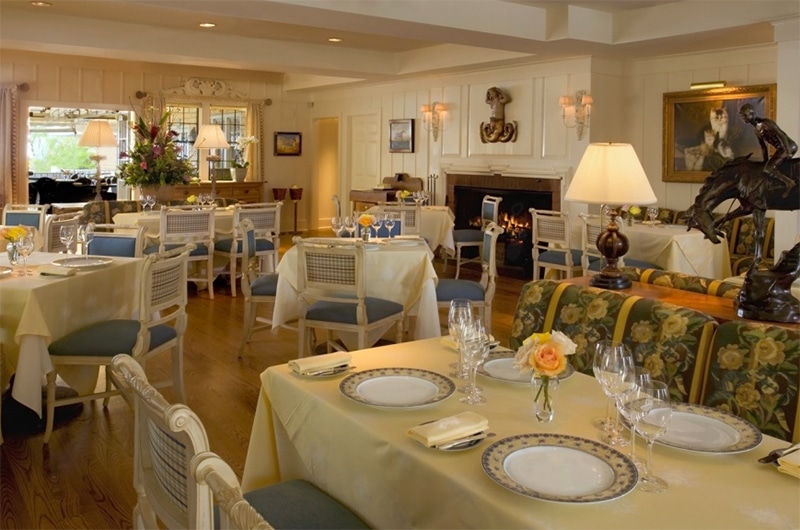 Within this lavish inn was our destination: TOPPER'S at The Wauwinet. TOPPER'S has a sumptuously appointed dining room, but we opted for a table on their spacious deck to enjoy an elegant alfresco dinner, with views of the TOPPERS'S garden, the manicured lawn, and the bay beyond.
This is a perfect spot for sipping and savoring the sunset, and TOPPER'S has the wine list to top them all. Carefully curated by Cellar Master Craig Hanna, the list features 1500 labels and an inventory of 20,000 bottles. Topper's at The Wauwinet has been an annual recipient of the Wine Spectator Grand Award since 1996. This season, Hanna explained, "Topper's will focus on great value and pricing on mature vintages and Grand Crus in the region of Nantucket's official sister city, Beaune, in the heart of Burgundy. Look for additional excellent representation in our other focal points of Piedmont, The Rhone, Champagne, and half bottles."
Seated on the deck, we had the choice of the prix fixe dinner menu ($85 for three courses), the six-course Chef's Tasting Menus (Vegetarian or Omnivore featuring arctic char, foie, lobster, and veal), or the Deck Menu, with more casual fare ranging from fresh oysters to wagyu burger, lobster pasta to NY strip. We'd been here before and have tasted the cuisine of Executive Chef Kyle Zachary, so it was the full-on prix fixe for us.
It takes a special talent to get all the details just right on every dish that comes out of Chef Zachary's kitchen: dishes that emphasize the fresh seasonal harvest without relying on heavy sauces or overwrought presentations.
Preparations here are deliciously straightforward, made with very high quality ingredients allowed to shine. As Chef Zachary explained: "There's such great produce available to us here…We focus on the produce first and build on that." Here healthy and luscious are not mutually exclusive.
 Click on images for enlargements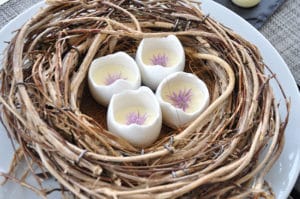 Our meal began with an assortment of breads freshly baked and warm: brioche, parmesan foccacia, and the signature Wauwinet brown bread. Meyer Lemon Custards baked in porcelain egg cups and adorned with delicate chive blossoms were brought next, nested in a woven basket. The tart and sweet and savory notes of these amuse-bouche woke all our senses to the meal to come.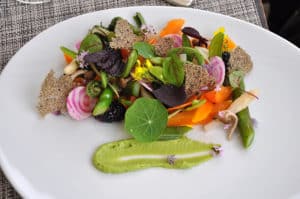 An exuberant celebration of colors, textures, and tastes is how we'd describe chef Zachary's Spring Harvest appetizer. It's almost too pretty to eat. Tender-crisp carrots, white and green asparagus, sweet sugar snap peas, curled fiddleheads, are tossed with pickled mushrooms, slices of bulls eye radish, nasturtium, chive flowers and other bright, edible blossoms in a light, puckery dressing. Plump blackberries and wedges of nectarine add juicy sweetness, and thin quinoa crisps provide a tasty crunch. (Suggested Pairing: Hanger One Lime Vodka "Lime Drop" Martini)
Another summery delight is the Citrus Cured Arctic Char. A subdued spa presentation of clean lines and soft colors belies the vibrant, complex flavors assembled in this dish. From the creamy smear of avocado to the pickled cucumber and hearts of palm, the smoked roe, and the dabs of coconut milk that are arranged around the sparkling fresh fish, every bite is more exciting than the next. (Suggested Pairing: Chilled Aquavit)
The two hot appetizers we enjoyed were on opposite ends of the spectrum. Roasted Chicken Velouté is a dish of luxurious flavors. The artichokes, ricotta gnocchi, morels, carrot, and celery with discs of summer truffle are presented in a shallow bowl. The server pours all around this a sensuously rich, dark reduction that is the essence of roasted chicken. (Suggested Pairing: 2014 Jadot Macon Villages)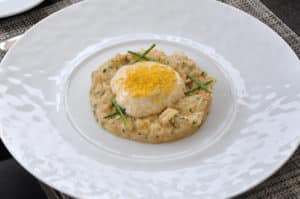 The Carnaroli Rice Risotto tastes more of seafood than of rice with jonah crab, rock shrimp, and Maine sea urchin. Even the rice is cooked with lobster stock. One of Chef Zachary's favorites, he describes this sensational dish as "a big umami bomb." Even the garnishes add deep, rich flavor: a brown butter emulsion topped with bright yellow grated bottarga. (Suggested Pairing: 2014 Frescobaldi Vermentino "Ammiraglia")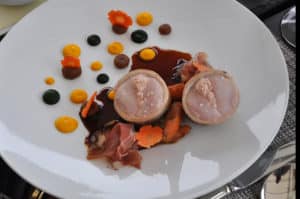 Among the entrees, Chef Zachary recommends the Roasted Loin of Rabbit. Impressively moist and tender, the saddle is prepared in a ballotine style, sous vide, and presented with folds of smoky, salty serrano ham with a smoked date puree and sweet roasted carrots. The legs are served over seared foie and topped with luxurious satiny potato puree. (Suggested Pairing: 2014 Maison l'Envoye Pinot Noir "Two Messengers, Willamette")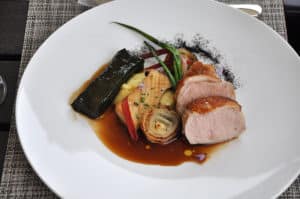 This chef is known for his "tastings," in which he prepares an ingredient —often lamb or veal or pork— in several ways for the same entree. We love his Tasting of Free Range Veal on the current menu: sauteed sweetbreads, sliced sirloin with a delicious thin cap of crisp browned fat, and short rib bundled in chard. Cheesy aligot, a meaty sauteed king trumpet mushroom, and sweet roasted onions bring the flavors together. (Suggested Pairing: 2010 Altesino Brunello di Montalcino)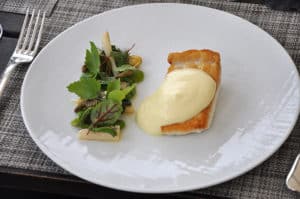 Grand Banks Halibut demonstrates that Chef Zachary is as skilled with fish as he is with meats. The fish is moist and well seasoned; its delicious golden crust topped with meyer lemon sabayon. A beautifully composed salad of pickled white asparagus, fiddleheads, and fava beans is served alongside. (Suggested Pairing: 2012 Latour- Giraud Meursault "Charles Maxine")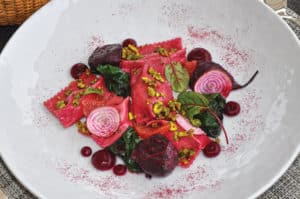 In keeping with the chef's devotion to fresh produce, it was his Cloumage Cheese Agnolotti that was our table favorite. Tender housemade beet pasta is filled with award-winning creamy cloumage cheese and served with sweet roasted beets. Toasty pistachio gremolata sprinkled overtop adds a tasty crunch, and segments of blood orange add sweet pops of juice. Fresh and braised beet greens help cut the sweetness of the dish with a pleasantly bitter bite. (Suggested Pairing: 2015 Mittlebach Rose of Zweigelt)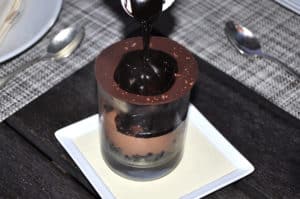 Dessert is obligatory in a three-course prix fixe, and who are we to argue? Pastry Chef Giancarlo D'Attili's mastery matches well with Chef Zachary's. His Chocolate Parfait is a layered wonder: white chocolate ice cream over Maracaibo chocolate bavarian, over devils food cake, with hot milk chocolate poured over it all.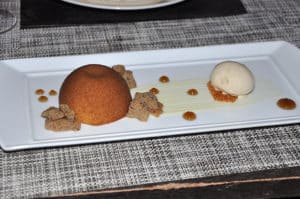 Chef D'Attili's Hazelnut Bomb is a dome of delicious marscarpone mousse flavored with Frangelico and dusted with hazlenut coffee. Bits of caked soaked in hazlenut coffee are scattered about and a scoop of espresso ice cream is perched on a hazlenut brittle.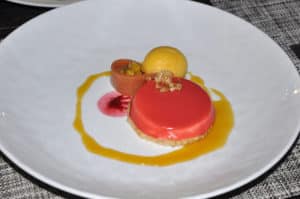 Tangy and intensely flavorful, the Guava Cremeaux will transport you to the tropics. Assorted housemade Ice Creams and Sorbets are offered for a dessert that is light and sweet and simply wonderful.
As we lingered on the deck, watching the stars come out over the bay, it would not have taken much to convince us to stay. Perhaps our next trip to Wauwinet will be for a weekend.
TOPPER'S at The Wauwinet
508-228-8768, reservations recommended • Wauwinet.com
Breakfast served 8 to 10:30 am; Sat & Sun Brunch 11:30 am to 2 pm
Lunch noon to 2 p.m. • Dinner served nightly from 6 p.m.
$80 for 3-course Prix Fixe Dinner • Chef's Tasting Menus also offered
Deck Menu served from noon to 9 pm
Indoor & Outdoor dining • Award-winning wine list • Full bar service
TOPPER'S Bar open daily noon to 11 pm • Major credit cards accepted