Easy Street Cantina, Where You Get Quality & Quantity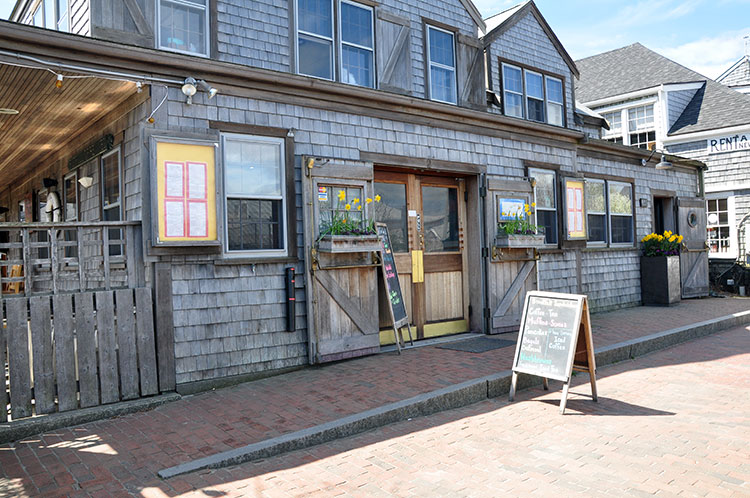 There's a local joint on Easy Street where you can start your day with a bountiful breakfast that won't break the bank, and it doesn't matter if your day is starting at 7 am or at 7 pm! Easy Street Cantina serves breakfast from the time they open until 10 pm, so you can have breakfast for lunch and breakfast for dinner as well as having breakfast for breakfast. But breakfast is not all they serve: their menu includes an array of hearty sandwiches, burgers, fajitas, tacos, burritos, salads and wraps, fresh seafood, and finger foods. Monday through Friday they offer All-You-Can-Eat Buffets with a different featured entree each day that will satisfy even the hungriest appetite for under $12! This is one place on Nantucket where you don't have to choose between quality and quantity.
From the street, Easy Street Cantina has the usual Nantucket look: low slung with gray shingles, but step inside the door and it's fiesta time! Every wall is painted in a festive color and adorned with fun and whimsical south-of-the-border wall-hangings, sculpture, and there are even a couple of jaunty neon signs. The Cantina also has a cheery side patio equipped with picnic tables, flower-filled hanging baskets and potted plants, and wide market umbrellas. This patio is a favorite spot for outdoor dining: right on the corner by Steamboat Wharf, it's a great spot for people-watching.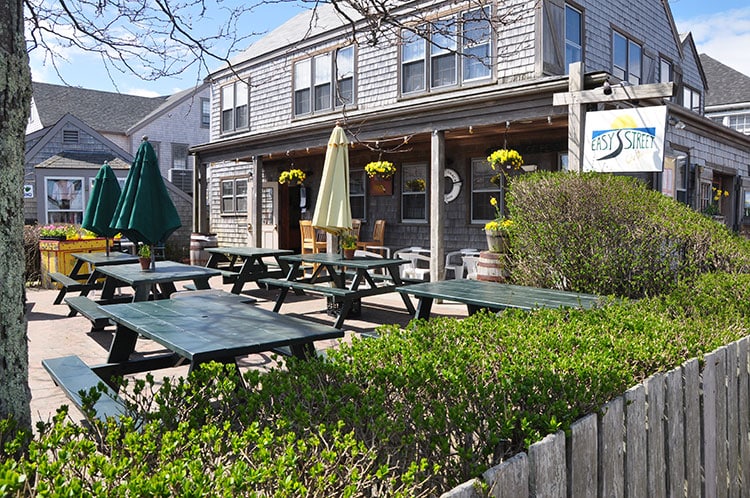 Breakfast at Easy Street Cantina can start with a freshly brewed steaming hot (or iced) cup of Caribou coffee, tea (hot or iced), or hot chocolate. Frozen coladas are also offered to quench your thirst. They're known island-wide for their tasty . Six different versioEasy Street Cantina | Nantucket | MAns are served, each one under $7 —the simple Egg and Cheese Burrito is under $6 — and if you prefer a breakfast sandwich, the burritos can be made on a grilled roll or on a bagel instead of wrapped in a warm flour tortilla. You can even add tomato, onion, salsa, jalapenos, or hot sauce if you need a little extra zing to wake up. We like the Steak, Egg, and Cheese Burrito, a flour tortilla is stuffed with freshly scrambled egg, thinly sliced steak, and plenty of melted cheese.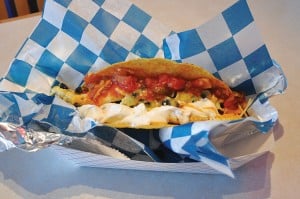 The Large Breakfast Taco is another tasty way to start your day. Filled with black beans, egg, cheese, sour cream, and salsa, this gluten-free breakfast will get you started right.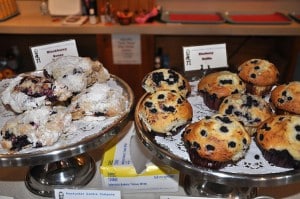 Tuck a freshly baked scone or muffin into your takeout bag, too, for a mid-morning snack.
We also love the breakfast treat that chef-owner Bartholomew Gangemi calls his Grand Slamwich. This is breakfast on a bun…and not just any bun, a maple grilled bun! Bacon slices, a sausage patty, slice of ham, egg, and cheese make this the best portable breakfast you've ever had! All these Cantina's Breakfast Sandwiches and Burritos very handy if you're on your way to somewhere else, whether it be the beach, the boat, or off to work.
But if you have time to sit down an enjoy breakfast, then order the Pancakes. A stack of three fluffy cakes with butter and syrup and a side of bacon is just $7.95. Add an extra 95 cents and you can have them with blueberries or cranberries or chocolate chips. For just a few dollars more, you can add hash browns, sausage, or ham for a morning feast.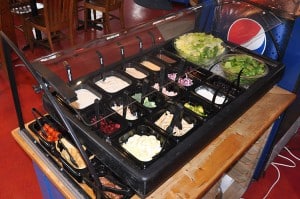 At 11:00 am Monday through Friday, Easy Street Cantina sets up their All-You-Can-Eat Buffets. Each day features a different main course, but every day includes a variety of Pizza, make-your-own Nachos, and a fresh Salad Bar with more than a dozen toppings including avocado, grilled chicken, and shrimp. The Salad Bar is offered as it's own all-you-can-eat lunch for just $9.95. Tasty, filling, and fast—who can argue with lunch on Nantucket for under $12?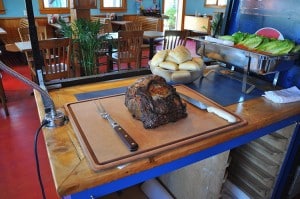 The Monday Buffet featuring Prime Rib is a favorite and sometimes sells out. The beef is liberally seasoned with Bartholomew's Secret Spice (a distinct blend of more than 17 different herbs and spices including garlic, onion, Nantucket sea salt, paprika, pepper, and turmeric but no msg) and slow roasted till the exterior is deliciously crusted while the middle stays succulent and pink. Slices are cut to order, and the buffet includes horseradish, lettuce, tomato, and rolls to make a sandwich. There is often an extra side like sauteed mushrooms and onion.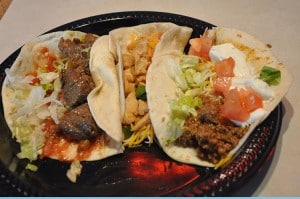 Tuesdays the buffet features Soup & Sandwiches, with chowder, chili, and an assortment of different small sandwiches. Wednesday you can make as many steak or chicken or steak and chicken Fajitas as you can eat! Taco Bar with all the fixins is Thursday's all-you-can-eat buffet (and we can eat a lot of Cantina tacos!). Friday is a Fish Fry Buffet, that features two types of fish, usually Grilled Swordfish Steaks and Beer-Battered Pollock, along with a surprise or two like hot, crisp, sweet onion rings.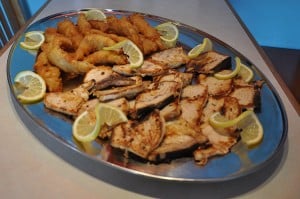 You can make a plate from the buffet to with you — this is an excellent alternative to boat food if you're leaving on one of the midday ferries, you'll be the envy of everyone else munching on concession snacks. Or stay and enjoy the buffet at Easy Street Cantina dining room or patio so you can go back for refills (it is all-you-can-eat, after all).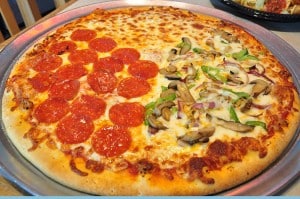 You can have lunch at Easy Street Cantina every day of the week and enjoy something different every time you visit! Their menu has diners returning often to sample the varied offerings. Four different versions of hamburgers plus a veggie burger, hot dogs, grilled and fried chicken sandwiches, ten different wraps, tacos, burritos, quesadillas, cheesesteak subs, and one of the best lobster salad rolls you'll find on the island!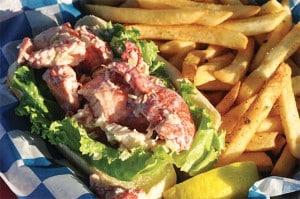 Lobster is not the only seafood that Easy Street Cantina treats just right—their fish, shrimp, clams, and scallops are all outstanding!   Both their Clams and their Scallops come highly recommended. The clams are dipped into a buttermilk batter before being fried just till the outside is golden brown but the clams are still tender. The scallops are coated in an egg batter and lightly cooked so they stay sweet and succulent.
Even if all you want is a mid-day bite to hold you over till dinner, Easy Street Cantina a variety of tasty tidbits like Popcorn Chicken, Popcorn Shrimp, Seasoned Fries, Buffalo Wings, Guacamole & Chips, Mozzarella Sticks, and even "Snachos" (small cheese nachos). Come in with a sawbuck and you'll leave with some change — that doesn't happen very often on Nantucket, but it happens a lot at Easy Street Cantina. This is the place you want to go for quality and for quantity!
Easy Street Cantina • 508-228-5418
Corner of Easy & Broad Streets • www.easystreetcantina.com
Open every day from 7 am to 10 pm (till 2 am Fri. & Sat. in summer)
Breakfast foods served all day along with regular menu items
Most items range in price from $4.00 to $9.95
All-You-Can-Eat Buffets Mon-Fri from 11am-2:30pm: $10.95 to $11.95
Indoor Dining, Outdoor Dining, & Takeout • Party Platters available
Visa & MasterCard accepted
Home of the Nantucket Cookie Company: www.NantucketCookie.net