Dune Restaurant, Life's Finer Pleasures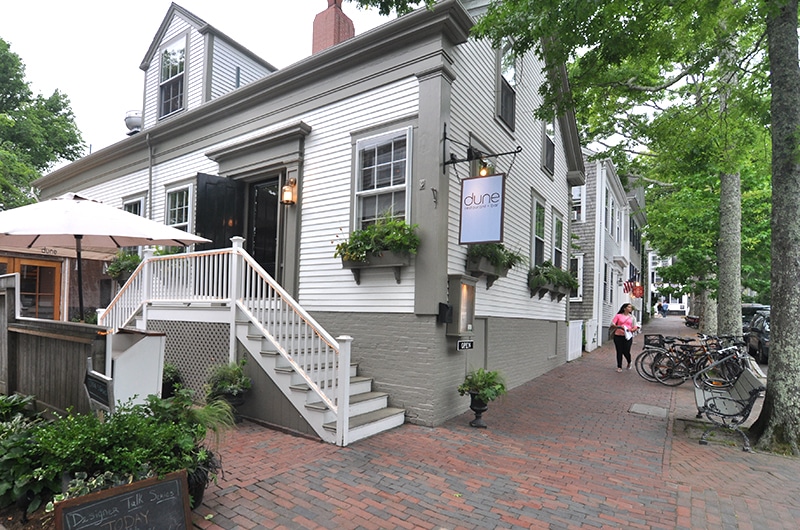 There was a time when dinner was mostly a prelude to entertainment, when its main purpose was to satisfy your stomach before the movies, the theater, or some other event.
Thankfully, that's no longer the case. A multicourse dinner is entertainment by itself for many of us. And that's particularly true for those who spend the evening at Dune Restaurant.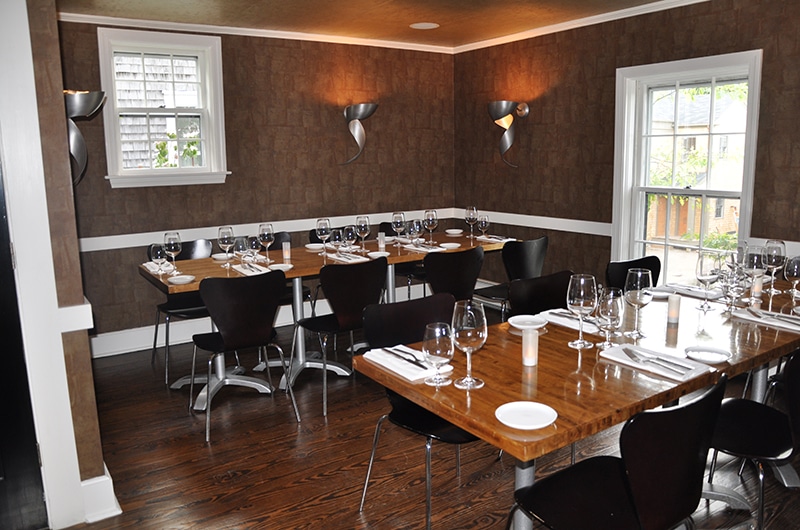 In the heart of downtown Nantucket on Broad Street, Dune Restaurant is chic with a casual elegance that fits so well with our island. There's an outdoor bar where you can enjoy the summer sunshine by day and the cool evening breezes in the evening while sipping wine and cocktails. Dune is quickly becoming a favorite spot for an alfresco lunch or a midday treat of a refreshing plate of Grey Lady Oysters and a spicy Pisco POW.
Head up the stairs, and you'll find yourself by their gorgeous Brazilian quartzite bar, with lovely swirling colors of gray and sand and amber. Dune's bar is a favorite evening stop for anyone looking for good conversation and great cocktails.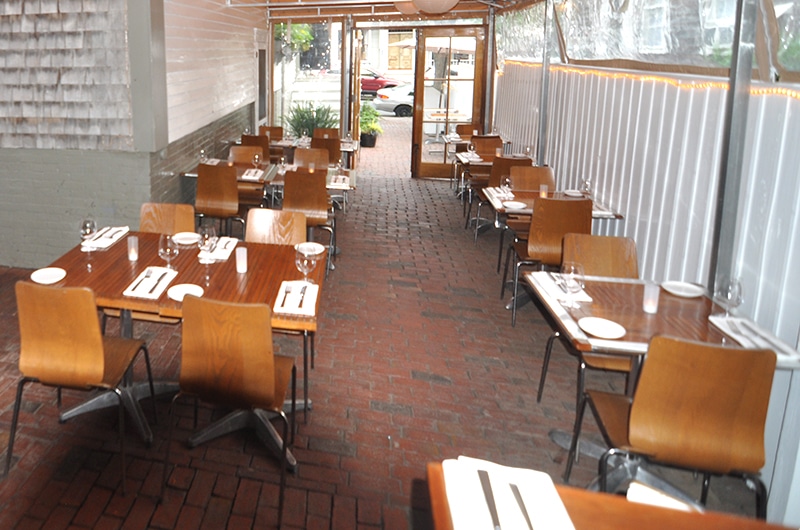 The dining room is designed in soothing beach tones with striking fixtures that have beautifully organic curved lines reminiscent of shells. There are two rooms upstairs, either one ideal for private celebrations. Service is prompt and professional but also warm and welcoming. And there's serious talent in the kitchen here with Chef-Owner Michael Getter and his hand-picked crew. Getter has been a part of Nantucket's upscale restaurant scene for more than two decades, first at 21 Federal, then American Seasons, and, since 2009, making his mark at Dune, his newest creation.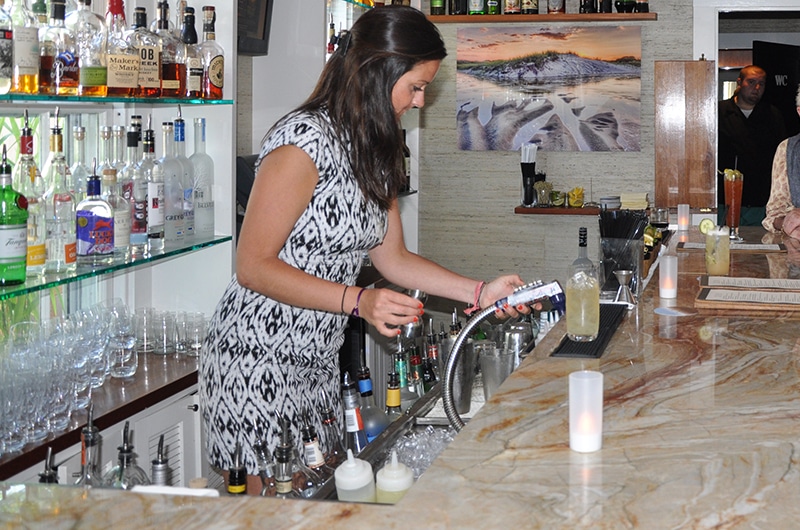 The food here is sophisticated without being self-conscious. Dishes are seasonally- driven with stylish flair and feature great local and regional produce, fish, and meats. Chef Getter has a knack for coaxing immense flavor from his ingredients and for pairing them with complimentary and contrasting flavors that keep you coming back for more.
 Click on images for enlargements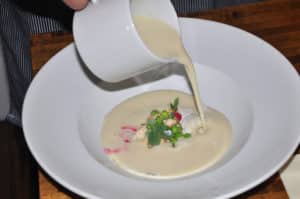 We started our meal last week with Getter's astonishingly good White Asparagus Bisque. How he conjures such flavor from a mild vegetable is part of his kitchen magic. And there's drama in the presentation: this appetizer is brought to table as a cluster of lump crab meat, plump English peas, yogurt, mint, lemon, and lavender alone in a shallow bowl. Then, tableside, the hot soup is poured around these tasty tidbits, partially submerging them, and coloring the ivory bisque with tempting streaks of pink and white. (suggested pairing: 2013 Vignerons de Buxy, Chardonnay, Montagne)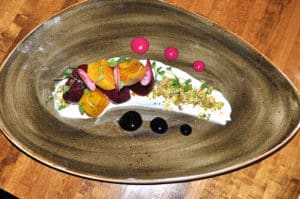 A light and summery favorite at Dune is the Roasted Red & Gold Beets. Flavors meld beautifully in this colorful presentation: big chunks of golden yellow and purple-red beets are set on a smear of snowy-white whipped goat cheese and crushed pistachios. Dark dots of balsamic reduction and pink dots of beet vinaigrette adorn the plate, ready for you to dip in some beets. This is a perfect example of Chef Getter's impressive ability to put together simple, fresh ingredients so they bring an instant rush of pleasure! (suggested pairing: 2015 Gerard Bertrand, Grenache Gris, Pays d'Oc)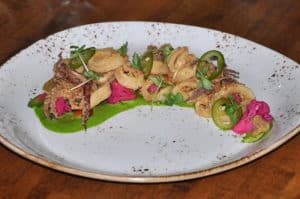 Last year we called Chef Getter's Calamari Salad the "best calamari dish we have ever tasted." Well, we've found a dish that at least ties for first place: his Crispy Rhode Island Calamari. Little nibbles produce big flavors in this mix of tender fried calamari, lightly breaded but deliciously crisp, arranged over a vibrant basil aioli with pickled purple cauliflower, rings of jalapeno, and fried garlic. This is a perfect starter, the sort of dish that is so good it makes you yearn for more, yet light enough that it won't eclipse what is to come. (suggested pairing: Pisco POW! thai chili infused pisco, lime, agave, egg white)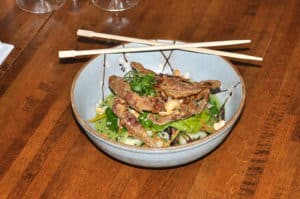 There's a lot going on in the Crispy Soft-Shell Crab appetizer. We were wondering how the sweet flavor and gentle crunch of the crab would hold its own in such an ingredient-rich dish, but in Chef Getter's hands this turned out to be absolutely delicious! The heat of the curry is cooled by slices of cucumber, the tender-crisp chard and soft ramen offset by the crunch of cashews. We highly recommend this starter—that if you are new to the delights of soft shell crab, this is an approachable way to begin. (suggested pairing: 2013 Fournier, Sauvignon Blanc, Loire)
Entrees on Chef Getter's July menu are as delightfully varied as the appetizers, offering a wide range of tastes and styles.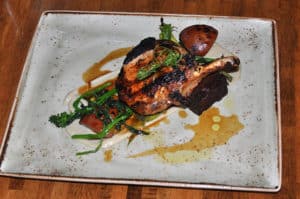 The Grilled Heritage Pork Chop is dish of rustic charm. The pork is succulent and flavorful, and the edges have a tasty char from the grill. Tucked under the chop is a square of pork belly with crisped meat and luscious fat nicely browned. We loved the pears served alongside, dusted with cinnamon and charred to enhance their sweet, juicy flavor. (suggested pairing: 2015 Bodini, Malbec, Mendoza)
It took us a minute to pinpoint the flicker of heat in the Grilled Peruvian Style Chicken Breast entree—it was the bright golden streak of aji amarillo painted across the dish, and it added a luscious fruity heat to the incredibly moist chicken breast. Pickled fiddleheads, red quinoa, spring onions, cilantro, an extravagant pile of morel mushrooms, and seasoned popcorn all make this dish an exceptional combination of flavors and textures. And it all works! (suggested pairing: 2013 Steele 'Shooting Star', Pinot Noir, CA)
Another dish of warm, rich flavor is the Spanish Shrimp, Littlenecks, and Mussels. Slices of chorizo, peas, tender fregola, red pepper, join the shellfish and shrimp in the deeply flavorful and tomato broth with smoked paprika and saffron. This is not quite a stew, but much more than a mixed seafood dish. The clams (whole and out of their shells), the mussels (still tucked inside theirs), and the huge shrimp (heads-on) were each cooked just right, retaining their individual tastes and textures, but delicious when eaten with a bit of chorizo or smoky broth. (suggested pairing: 2014 Broadbent, Gruner Veltliner, Austria)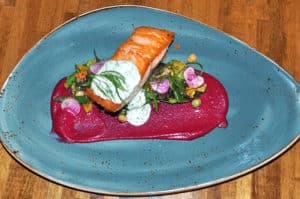 It's the Sauteed Norwegian Salmon that will revive a weary vacationer! This is a sensational dish: the salmon steak rare and moist and flaky underneath a delicious crust. Overtop is a dollop of cool dill and cucumber yogurt. Underneath the hot fish, on a bed of brilliant red beet puree with horseradish for a spark of heat, is a chilled salad of garbanzo beans, green beans, peas, yellow pepper, carrot, and radish. This dish is bright and seasonal, crisp and creamy, clean and summery. We will be back to order this again very soon. (suggested pairing: Bee's Knees gin, lemon, orange, local honey)
A donut for dessert is a flashback to childhood, but at Dune there's an adult twist to their Warm Sugar & Cinnamon Donut — a fried apple slice and salted caramel. (Suggested Pairing: "Dram Buoy" house made, barrel aged scotch and honey liqueur )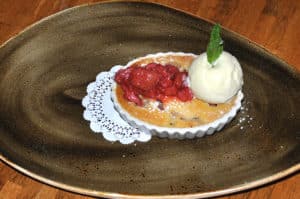 We adore the matchup of strawberry-rhubarb jam with a sweet almond tart and tangy goat cheese gelato in the Toasted Almond Tart. The tang of one cuts the sweetness of the other, and it all comes together for a very tasty treat.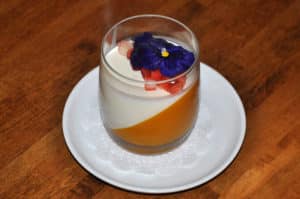 Vanilla Bean Panna Cotta is too plain of a description for this dessert that is two-toned in color and in flavor. Diagonally under the satiny-smooth panna cotta is a refreshing mango gelee. This is our top recommendation if you think you've eaten just a bit too well.(Suggested Pairing: 2014 Bartenura, Moscato, Lombardy )
The evening's final indulgence and well worth the calories is the Chocolate and Banana Bread Pudding. Served warm from the grill, the outside edges of the banana bread is slightly crisped and the chocolate melted between the layers. It's served in swirls of chocolate with candied walnuts and nutella ice cream.
Dune Restaurant
20 Broad Street • DuneNantucket.com
Reservations suggested: 508-228-5550
Lunch daily from 11:30 a.m. to 2:30 p.m. • Dinner nightly from 6 p.m.
Bar opens at 5 p.m., Cocktails served until 1 a.m.
Dinner entrees range in price from $29.75 to $42.75
Entire Menu available for takeout • Children accommodated
Full Bar • Indoor & Enclosed Patio Dining • Major Credit Cards Accepted
Private Dining available for 8 to 60 people, call to arrange your celebration