Crosswinds, You Don't Have to Hope for Fog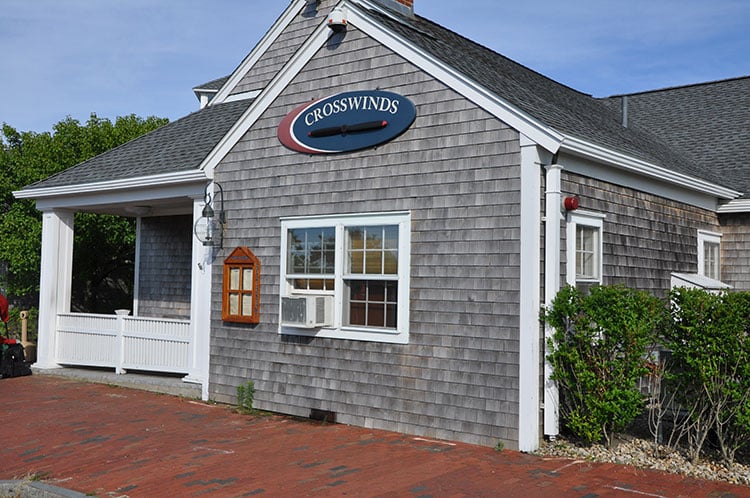 We won't go so far as to admit that we hope for fog and flight delays every time we're at Nantucket Memorial Airport.  But we will tell you that when those unfortunate things happen, we know exactly where to spend the extra time.  We go to Crosswinds.
Crosswinds Restaurant & Bar is within the main terminal of Nantucket Airport, in its own area just beyond the car rental counters and information desk.  It's the only restaurant on the island that is open every day of the year from 5:30 am till 9 pm, serving breakfast, lunch, and dinner.
In a hurry to catch a flight?  Crosswinds makes tasty "On the Fly" items and has a handy Grab-n-Go counter with fresh sandwiches, baked goods, and fruit.  Every item on all of their menus (breakfast, lunch, and dinner) is available for take-out.  We've heard that if you call right before you board your flight from Hyannis, when you land on Nantucket you can pick up your bags and then your meal, hot and ready to go!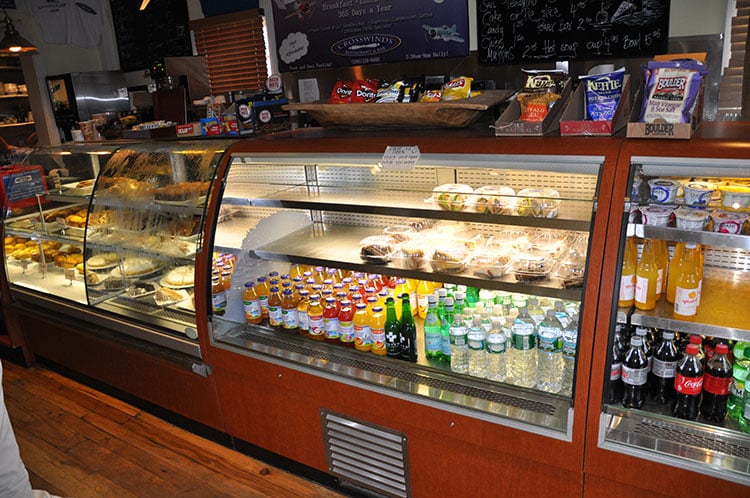 Crosswinds is not just popular if you happen to be at the airport—for many on Nantucket, it's the sole reason to go to the airport!  It's the quintessential "local joint," the sort of place that people mean when they say "go where the locals go" because it will be the best place in town.  The ambiance is casual and comfortable, and service is prompt and pleasant.  Manager Larry is the perfect host;  he checks in with all his guests, and often takes the time to chat.  Eat at Crosswinds twice, and he'll remember your name; eat there three times, and he'll remember where your kids are going to school.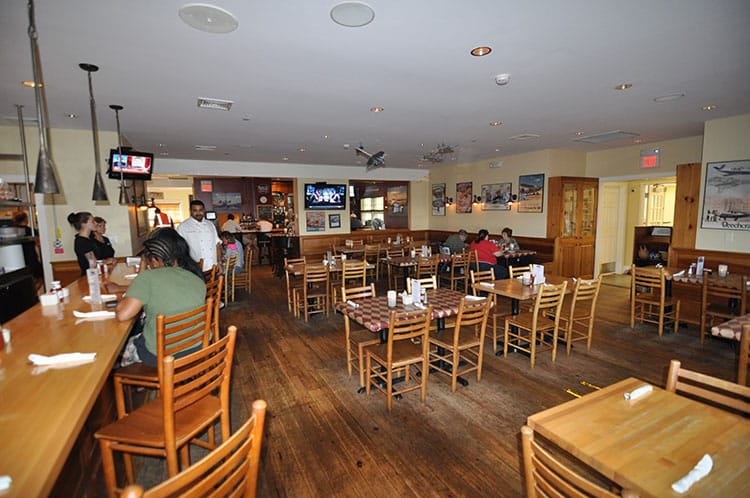 The Crosswinds dining room is ideal for families, they even have one huge table that can seat 12 or more comfortably.  And kids of all ages love their outdoor patio.  Eating just feet away from the tarmac may seem odd until you've tried it.  From this sheltered spot, you can watch the activity on the airfield, there's a great breeze, and it's quieter on the patio than you'd expect.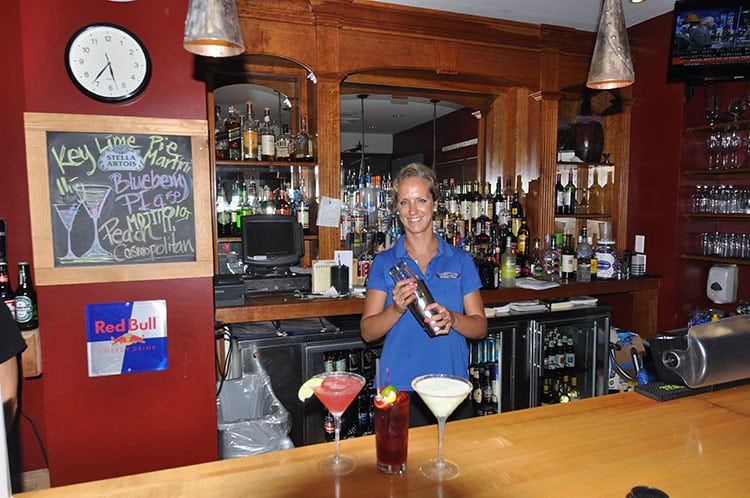 There's a bar at Crosswinds as well, and it's rarely mobbed like the downtown bars are during August.  It's a great spot for a cocktail or two while you watch the game.  Victoria makes some fantastic specialty drinks.  Her Key Lime Pie Martini, and her Peach Cosmo are favorites, but what we like best is her Blueberry Pie Cocktail, made with 888 Blueberry Vodka and ginger beer—it's not too sweet and has a refreshing summery taste.
Click images for enlargements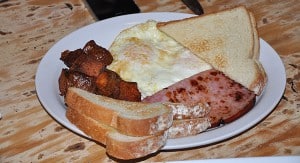 Breakfast at Crosswinds is served from the wee hours (5:30 am) until afternoon (2 pm); lunch starts at 11 am and continues through 5 pm.  Because the meals overlap, you can chow down on their hearty All American—a platter of two eggs, a slab of grilled ham (or bacon or sausage or linguica), crispy home fries, and thick toast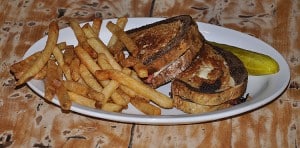 Meanwhile your companion digs into a very tasty Chipolte Pastrami Melt, with thin slices of pastrami, a smoky chipotle mayo, crunchy sauerkraut, and melted provolone between slices of rye bread.  Even the fries that accompany their sandwiches deserve praise:  hot and crisp outside, fluffy inside—you'll polish them off before you have time to share.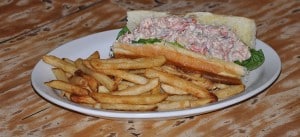 If Crosswinds is offering their Lobster Roll while you're dining there, then that is what you want to order—it's among the best on the island and certainly among the best priced!  They serve it classic style:  in a buttered, toasted roll on a crisp lettuce leaf.  The lobster salad is fresh and lightly dressed with some chopped celery and a squeeze of lemon.
During breakfast and lunch, they also serve a menu of seasonal specials: Cinnamon Bun French Toast, Peaches-n-Cream Pancakes, Fish Tacos with Pineapple Salsa, and Grilled Atlantic Salmon Salad are just a few currently offered.There is no overlap of breakfast or lunch during the dinner hours (5 to 9 pm) at Crosswinds, but they do have a "Breakfast at Night" section on the dinner menu as well as a trio of lunch favorites: a Black Angus Burger, Grilled Chicken Sandwich, and an Oven Roasted Turkey or Ham Club Sandwich.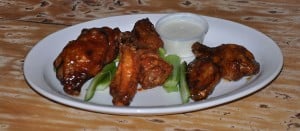 Appetizers on the dinner menu are fabulous finger foods.  Their Jumbo Wings are moist and meaty and come in three versions: spicy Buffalo Wings are hot but not fiery, delectably sweet and tangy Teriyaki Wings, and (our favorite) smoky BBQ Wings.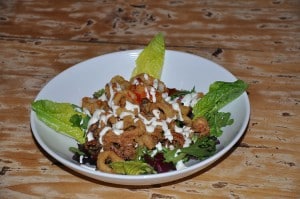 Crosswinds serves the best Calamari on the island.  It takes an experienced hand to cook these tasty tentacles and rings just right, and most of the kitchen staff has been with Crosswinds for years.  The calamari is delicate and tender, with crisp coating, and drizzled with two sauces: spicy-sweet Thai chili sauce and a cool aioli—both are also good on the fresh greens under the calamari.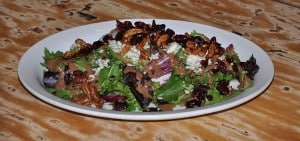 Another great starter is their Greek Salad, with its red onion, olives, and feta cheese, and their crisp and classic Caesar, but it's their House Salad that we keep going back to every time we go to Crosswinds.  Served on a platter—this salad is huge, big enough to share between two or even three people, or to be a meal in itself—the mixed greens are tossed with dried cranberries, toasted pecans, and crumbled blue cheese.  You can have your choice of dressing, but we recommend the balsamic vinaigrette for the best range of flavors.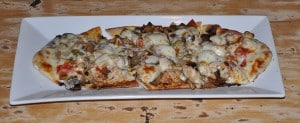 Don't confuse the Grilled Chicken Flatbread with pizza, as one in our party did before this tray of big chunks of moist, marinated chicken breast, fresh mushrooms, roasted red peppers, caramelized onions, and provolone cheese was set before us.  The toppings are so generous you can hardly see the housemade flatbread underneath.  The flatbread is very tasty—crisped on the edge, but flexible—but it's all the good stuff on top that really makes this dish irresistible.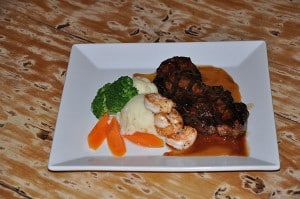 Nightly specials served at Crosswinds always draw a crowd.  A different meal is featured every night, most of them classic American comfort food except for Monday, when Chef's Showcase is featured, and Saturday, when A Taste of India is the special. Tuesday night is Steakhouse Sizzle, when for just $12.95 you can feast on a handsome 12-ounce Prime Rib, a beefy 10-ounce NY Strip with a gorgeous smoky char, or a meltingly tender 8-ounce Filet Mignon, each served with homestyle (read chunky) mashed potatoes and mixed vegetable. If you miss the Tuesday special, steak is also on the regular menu, and if you're really lucky, you'll be at Crosswinds when they offer their Surf n Turf with NY Strip and plump grilled shrimp.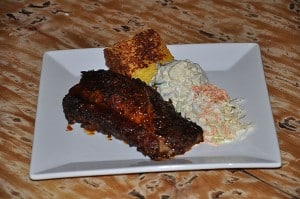 On Thursday night, for just $11.95 you can get a half rack of their deservedly "Famous BBQ Ribs"  with a thick piece of cornbread, warm from the grill, and creamy potato salad that has a nice twang and crunch from chopped pickles.  The ribs are dry-rubbed and slow-cooked in a slightly sweet sauce with a bit of smoke and just a touch of heat.  The meat is so tender that it falls off the bone with a touch — they may as well be boneless!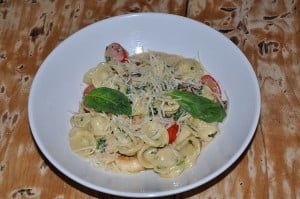 Perfectly cooked plump shrimp can also be ordered with the Orecchiette Pasta.  For this dish, the chef combines with the pasta sauteed pancetta, mushrooms, baby spinach, cherry tomatoes, and fresh basil in a luxurious cream sauce with just a hint of chipotle.  If you prefer, you can order it with grilled chicken or NY strip steak, though the pasta is very appealing all on its own.  This is comfort food taken to the next level!
Not in the mood for meat?  Crosswinds offers five different pasta and seafood dishes.  Friday night is Fish & Chips Night, when the fresh Atlantic codfish (beer battered and fried) is just $9.95, but you can order the Fish & Chips other nights as well as a hearty Atlantic Cod & Shrimp Stew.   The pasta dishes—Fettucine Delight, Pasta Alfredo, and Orecchiette Pasta—can each be ordered with shrimp, chicken, or NY strip steak.  All are very good, but we recommend the Orecchiette with Shrimp:  we love how the little hat-shaped pasta scoops up the flavorful chipolte cream sauce.  The Crosswinds kitchen cooks the plump shrimp just right every time, and the crisp bits of pancetta, chunks of mushroom, and juicy grape tomatoes cut the richness of the sauce and balance out the flavor.
Sunshine or fog, head over to Crosswinds for a great meal at a great price.
Crosswinds Restaurant & Bar  •  508-325-6265
Open year-round, 365 days a year at Nantucket Memorial Airport
Breakfast served 5:30 am to 2 pm (plus "Breakfast at Night")
Lunch served 11 am to 5 pm •  Dinner from 5 to 9 pm
indoor & outdoor seating  •  families welcome • plenty of free parking
Entire menu offered for takeout  •  "grab-n-go" counter
Dinner Entrees range from $7.95 to $19.95, most between $9.95 to $12.95
Full bar open Mon.-Sat. 9 am-9 pm; Sun. 11 am-9 pm
children's parties & private celebrations can be arranged