Brant Point Grill – A Doorway to Culinary Delights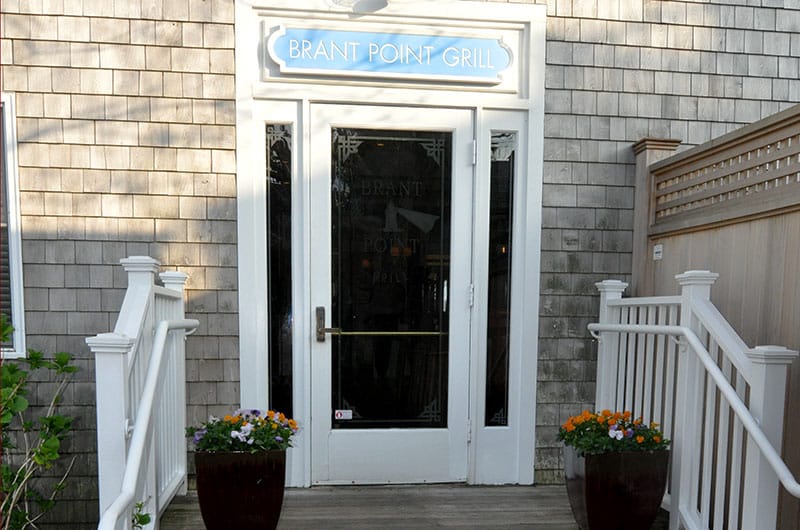 The entrance to the Brant Point Grill is a stenciled glass door unobtrusively off to the right of the entrance to the grand White Elephant Hotel. It's easy to miss and that would be a shame, as this door leads to some true culinary delights.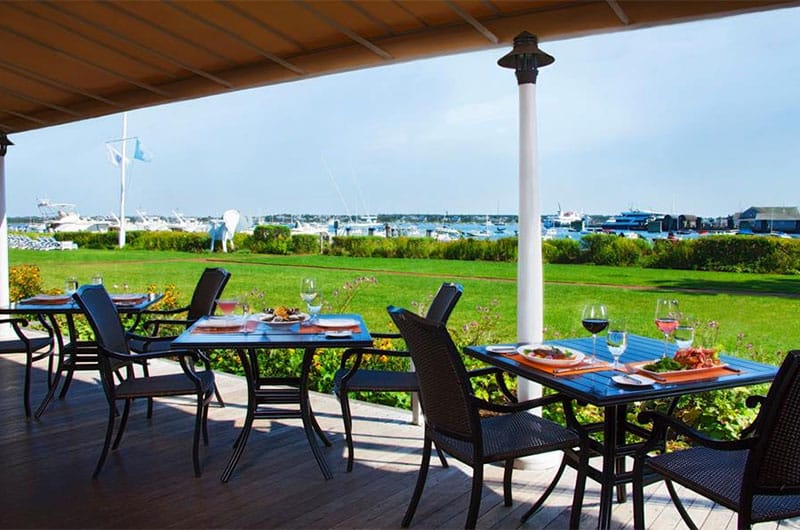 There are only a few fine dining restaurants on Nantucket that actually offer waterfront dining, and Brant Point Grill is an island favorite. Reserve a table on the covered deck outside the dining room and if you choose an early seating, you can watch the harbor transform from day into night, as the sky turns rosy at sunset till the moon comes out to add a silvery shimmer to the water. Come on a Friday and if you stay past 8pm, you can enjoy live music in the BPG bar while you enjoy a crafted cocktail (we recommend the ACK Crisis or the Bee's 75).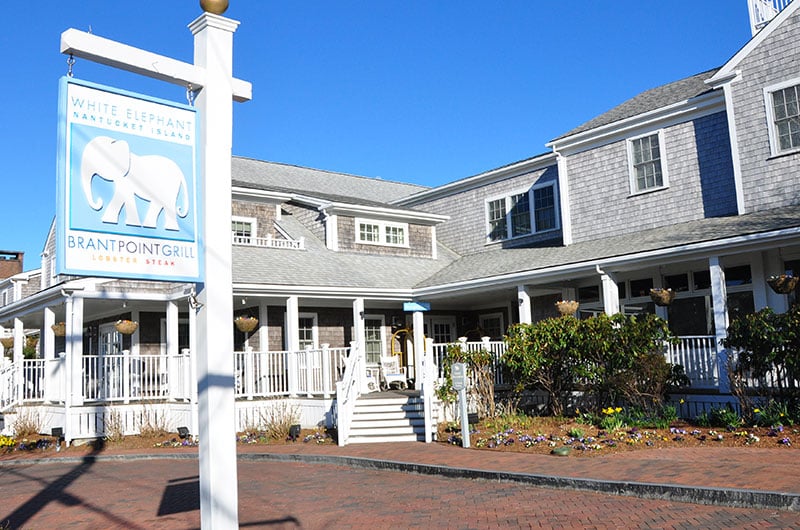 The Brant Point Grill has been the venue for many special occasions, and this month it will again be the venue for the Nantucket Wine Festival's fabulous (and sold out) Harbor Gala. But we like that for all the elegance, there is no pretension here. At BPG you can enjoy a relaxed meal with friends and family (children are welcome), and linger over dinner and conversation.
The wine list was described to us as "a living, breathing document with more than 400 selections…northern and southern, old world and new world." New bottles are added through the season as tastings reveal what will compliment the menu and please their guests. Brant Point Grill has again been awarded Wine Spectator's Award of Excellence. Pairings suggested in this article are from Sommelier Robert Pruett.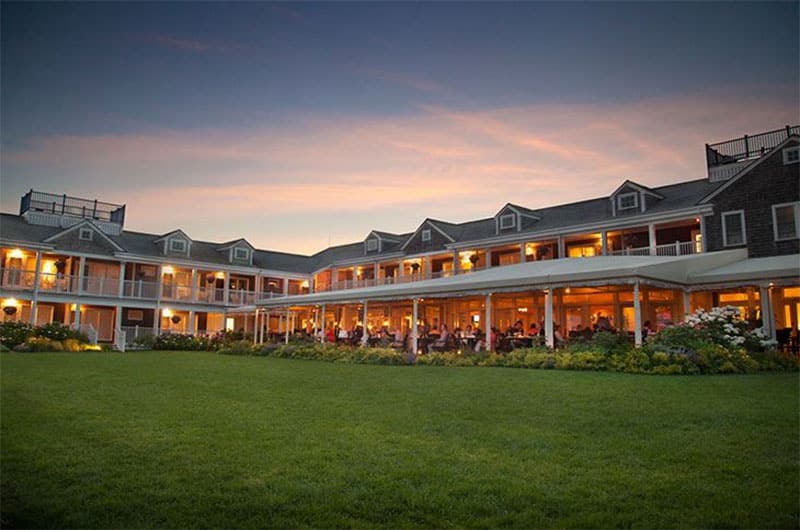 The design of the main dining room has been freshened for 2016 with a more sophisticated look replacing the traditional elegance and making the dining room lighter and brighter.
Click on images to view enlargements.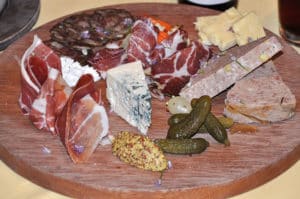 The menu, too, has been updated. Chef Thomas William Pearson is back at the helm, and he's added several dishes designed for sharing to his dinner menu of superb steaks, lobster, and fresh seafood. His beautifully curated Charcuterie Plate is spectacular—one of the best we've been served—with three different cheeses, paté, prosciutto, finocchiona, and a slightly smoky sopressata. Housemade pickled vegetables, cornichons, and housemade mustard provide a delightful crunch and delicious notes of acidity and spice. All you need is a tall cold brew, and the BPG bar has a nice assortment of New England Micro Brews to choose from.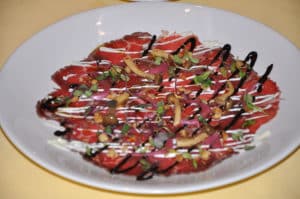 We were also delighted with the exquisite Pineland Farms Beef Carpaccio. The thin rosy slices of beef are beautifully presented, topped with a colorful assortment of shemiji mushrooms, pickled red onions, micro greens, tracings of truffle aioli and black garlic, and crunchy bits of brioche croutons. (Suggested wine pairing: 2010 La Chapelle de Calon, St. Estephe, Bordeaux, France)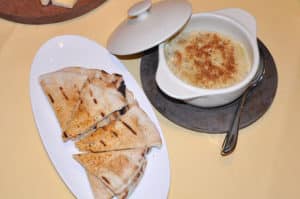 Crab & Artichoke Dip is the ideal choice for sharing around the table. Creamy, with just enough cheese, crab, and artichoke to be balanced and flavorful, the dip is delicious on the spiced, grilled pita bread served alongside. (Suggested pairing: 2013 Domaine Fouassier, "Clos de Bannon," Sancerre, Loire Valley, France)
Oysters served at Brant Point Grill are as fresh as they can be, harvested just a few miles away in Wauwinet at the Retsyo Oyster Farm—truly a seato- table experience— plump and fresh and clean. Steamed Mussels are a great choice for a heartier start. Fresh from Chatham, Chef Pearson steams them in a tomatoey cioppino broth. (Suggested pairing: 2014 Torres, "Pazo das Bruxas," Albariño, Rías Baixas, Spain)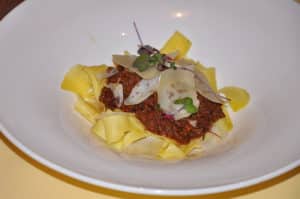 Through the end of June, Brant Point Grill is offering a 3 for $33 Menu in addition to their regular menu, and it is from those selections that we ordered our favorite appetizer of the evening: Bison Pappardelle. Housemade pasta is cooked al dente and topped with a bison ragout full of deep, slow-cooked flavor The broad shavings of aged parmesan served overtop soften into the ragout, adding a delectable pungent bite. (2011 Couly-Dutheil, "Clos de L'Echo," Chinon, Loire Valley, France)
 Chef Pearson's entrees sing with flavor. He starts with fish and seafood fresh from the docks and meats that are pasture raised and hormone-free to design a menu that has both familiar flavors and original choices. He has a talent for combining tastes and textures to create memorable dishes. Even his vegetarian selection is inspired—on this menu it's a Roasted Hearts of Palm with hazelnuts and foraged mushrooms over spaetzle with manchego cheese and poached egg.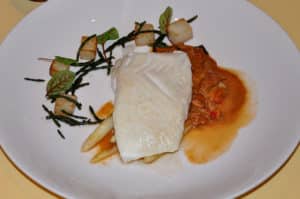 We were tempted to indulge in Chef Pearson's Grilled New England Lobster or Surf and Turf (which is designed for two), but we wanted to taste the variety of the menu, so instead we chose the Butter Poached Halibut and Pearson's Seared Sea Scallops. Both are sensational! The delicate halibut comes apart in big moist flakes over a luscious lobster cream sauce. Thin spears of white asparagus, sweet cubes of roasted turnips, and briny crunchy sea beans complete the dish.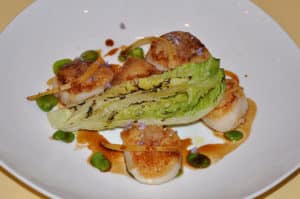 The delectable scallops are deliciously caramelized top and bottom, their sweet flavor intensified by a dollop of apple-vanilla jam atop each. They're served around a delectable thick square of pork belly, the meat tender and the fat delightfully crisped. (Suggested pairing for the Halibut: 2012 Pahlmeyer, "Jayson," Chardonnay, Napa Valley, California; and for the Scallops: 2012 Gaston André, Puligny-Montrachet, Burgundy, France)
 As good as the seafood is here (and it is very good), the meat entrees that stole the show.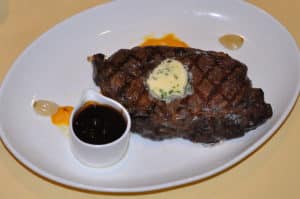 Steaks at Brant Point Grill are simply served and simply delicious. We were dazzled by the tenderness and rich flavor of the Prime Aged Rib Eye. The thick steak arrived at table with beautifully charred edges, its center warm and red—exactly medium-rare, as ordered. The rib eye rested upon a sweet, bright orange carrot puree and a pat of herb butter melted down to run into the jus. At 16 ounces, it was a bit large for us to finish at dinner, but it made lunch the next day very special. (2012 Bramare, "by Paul Hobbs," Malbec, Lujan de Cuyo, Mendoza, Argentina)
In true Steakhouse fashion, there are a variety of sauces and sides. The peppercorn sauce is our top choice for the steaks, and the BPG Signature Lobster Mac & Cheese (which is large enough to be a light meal on its own) and the Green Beans and Pine Nut Salad are the two sides we highly recommend.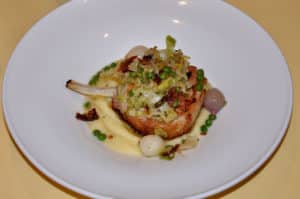 Bite by bite we explored the Grilled Pork Chop that was the 3 for $33 entree we chose. Thick and succulent, the chop is nestled in a bed of satiny smoked mashed potatoes studded with pearl onions and topped with chopped grilled romaine, smoky salty bacon, and peas. Every forkful could have a different flavor, each one splendid! (2014 Henri Boillot, Bourgogne Red, Burgundy, France)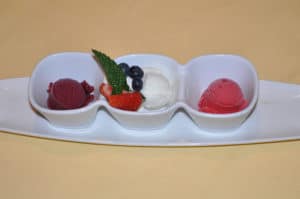 Sommelier Robert Pruett suggested we finish the meal with a Dow's 20 year Tawny Port, or a Christain Drouin Pays d'Auge, XO, Calvados, but we couldn't resist the desserts. BPG's trios of Housemade Sorbets or Ice Creams fit the bill for a light finish.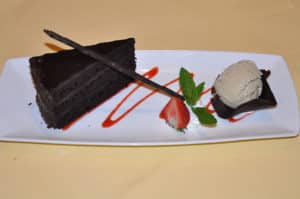 But their justifiably famous Chocolate Fudge Cake named for pastry chef Marcia Bruce left us purring with delight.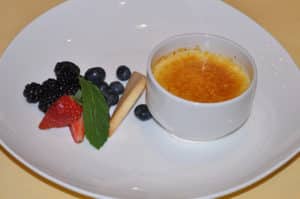 We especially loved their Vanilla Creme Brulee for the fact that the choice of a tall cup rather than the typical flat oval dish gave us more of the satiny-sweet custard to spoon up and enjoy.
Step through the doorway to culinary delights that is The Brant Point Grill and enjoy a meal to remember.
Brant Point Grill at the White Elephant,
50 Easton Street
BrantPointGrill.comReservations suggested: 508-325-1320
Breakfast served 8 to 11 am • Sunday Brunch from 10 am to 2 pm Lunch 11:30 am to 3 pm
Bar Menu 3 to 11 pm • Dinner from 5:30 pm
Most dinner entrees range from $26 to $64 with a 3 for $33 Spring option
Full Bar • Indoor & Outdoor Dining • Handicap Access
Major Credit Cards Accepted • Families welcomed