Black-Eyed Susans – Still Exceeding Expectations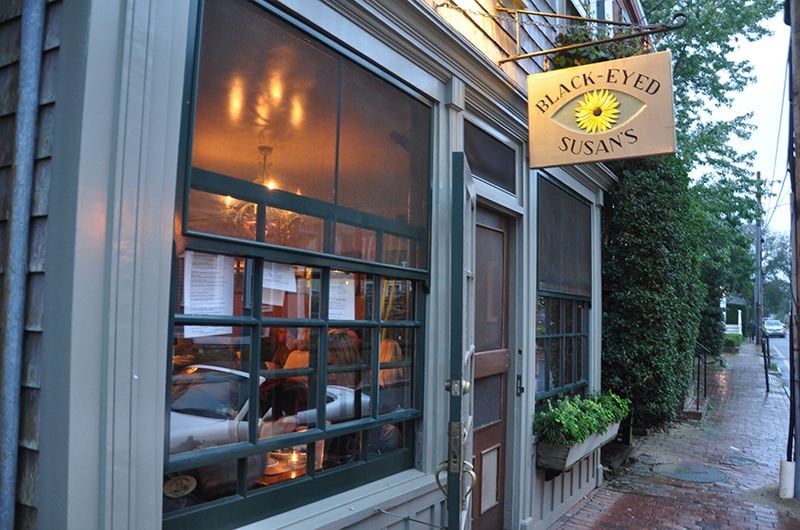 Autumn is our favorite time to dine out at Black-Eyed Susan's. We love walking through the evening chill of downtown Nantucket in October to the quiet side street where we know a delicious and exciting meal awaits us in this warm and cozy eatery. We've never been disappointed here, and our dinner last week exceeded expectations.
When we arrived last week for our 6 pm seating, the restaurant was full— there was not a single seat left at the long granite counter that faces the open kitchen, and the only remaining table was ours.
The menu at Black-Eyed Susan's changes seasonally, with frequent tweaks, improvements, and specials. Executive Chef and Co-Owner Jeff Worster is known for his high level of inventiveness, so even if the dish you adored at your last dinner here is not exactly same when you return, don't fret, it's probably even better!
In the 20+ years we've been dining at Black-Eyed Susan's, we've never seen Executive Chef Jeff Worster repeat a soup recipe. At our dinner last week, we savored a Spiced Beet and Holland Leek Soup with a delicious velvety texture studded with tasty bits of applewood smoked bacon. The soup has an inital sweet taste that gives way to a heat that gradually builds and then is gentled when you take a spoonful of the creamy creme fraiche mini cheesecake floated in the center.
We've never had anything quite like the Isaan Mushroom Salad on Chef Worster's autumn menu. It's a salad of tart, spicy, salty, flavors that enhance the variety of petite mushrooms, rich with umami flavor, rather than overpowering them. It's a great mix of textures, firm tender mushrooms, soft kobocha squash, nibs of toasted rice, and the gentle crunch of shallots.
We also enjoyed the Crispy Pork Tonkatsu Slider. The pounded pork is coated in nicely browned panko, tender and juicy on the inside. A sweet and tangy tonkatsu sauce is schmeared between it and the grilled bread. Crunchy sweet potato chips are served alongside.
Several of the classics at Black- Eyed Susan's—dishes that have been on their menu for more than 20 years, they're that good—are offered in half portions as appetizers or full plates as entrees. Of these, our favorite is the Linguini with Local Quahogs. Simple and simply delicious, everything about this dish is perfect: the linguine just al dente, the clams fresh, briny, and tender, just the right amount of sauce, plenty of parmesan, and a touch of freshly ground pepper.
With just four entrees on the fall menu at Black-Eyed Susan's, we were able to taste each one.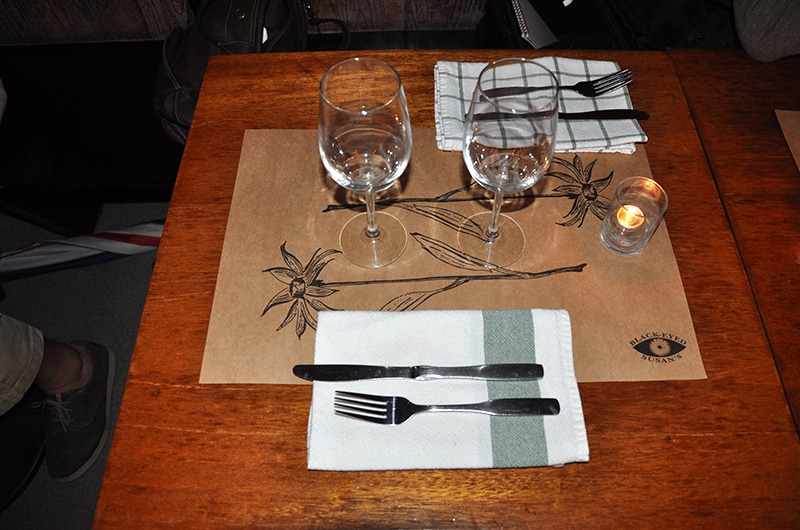 The aromas from the Corn Crusted Local Cod turned heads as it was brought to our table, and the taste of this entree lived up to the anticipation. The thick piece of fish is cooked through with crunchy cornmeal coating, yet it remains moist and flaky. Tucked under the codfish are roasted potatoes, crushed with olive oil and garlic, and in rings surrounding it, three luxurious sauces: tomato, a kale pesto, and a Madeira demi-glaze. The potatoes are just the thing for dragging through the dark and delicious sauces.
Even better is the Sake Marinated Salmon. Sauteed top and bottom to a golden crispness, the delectably moist salmon steak is served in a pool of earthy chowder, chock full of diced potato and smoked mushrooms. Shiro miso adds a new dimension of flavor to the chowder. We love how every element of this dish amplifies the flavor.
If you like a bit of fire in your belly, you'll adore the Chiang Mai Ginger Pork Curry. First you get a mouthful of flavor, and then the gingery heat sneaks up on you. A bite or two of the tumeric roasted fingerlings help cool the flame, but if you plan to dine on this, bring a cold brew or two (Black- Eyed Susan's is BYOB).
Tied with the salmon for table favorite is the Jamaican Jerk Chicken Thighs, boneless, pounded thin, seasoned more for flavor than for heat, and sauteed for a delightfully crisp skin over succulent meat. The chicken is served on a bed of orzo, collards, and black-eyed peas. On top is a cold and juicy mango-habanero chutney and crunchy dried plantains.
Dessert was a heaping platter of Cookies and Truffles, with something for everyone: satiny chocolate, crisp macadamia nut, coconut macaroon, classic sugar cookies.
There are just a few weeks left to enjoy this island favorite before they close for the season—make your reservations today!
Black-Eyed Susan's
open through mid- to late-October at 10 India Street
stop by or call 508-325-0308 for reservations
Breakfast served from 7 a.m. to 1 p.m.
Dinner served Mon.-Sat. from 6 to 10 p.m.
Seatings are at 6 p.m., 7:30 p.m., and 9:15 p.m.
entree prices range from $26 to $29
BYOB, corkage fee • Cash or checks only, no credit cards
black-eyedsusans.com