Atlas: An Exotic Journey Out of Town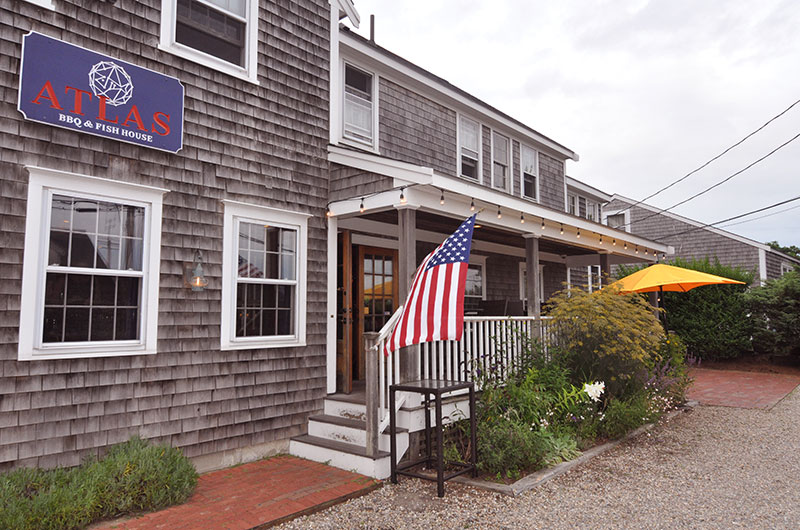 ° by Carl Oscar Olson °
Brandt and Gabrielle Gould, owners of ATLAS, are what you'd call a power couple. Brandt is the executive chef and brings more than 25 years of management and culinary experience into the kitchen. Gabrielle comes from a family of restaurateurs and was formerly the bar manager at the 3-star New York restaurant Jean Georges. As of two years ago, after an 8-year hiatus from the restaurant industry, they are back on the map with ATLAS.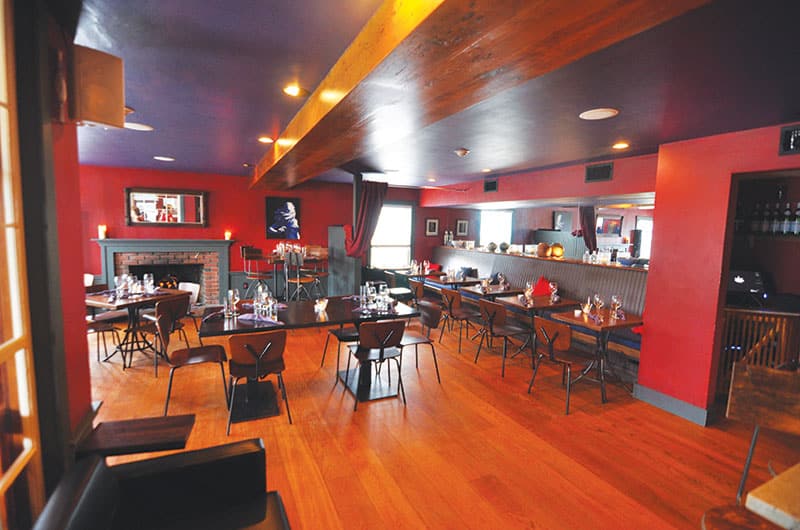 ATLAS sits proudly at 130 Pleasant Street. Inside, the walls are a painted a beautiful burgundy-red, a sneak-peek into the restaurant's fantastic wine list. The lighting is perfect, and the dining room is comfortable and spacious. The bar has loads of seating and a lot of other things you might want, too.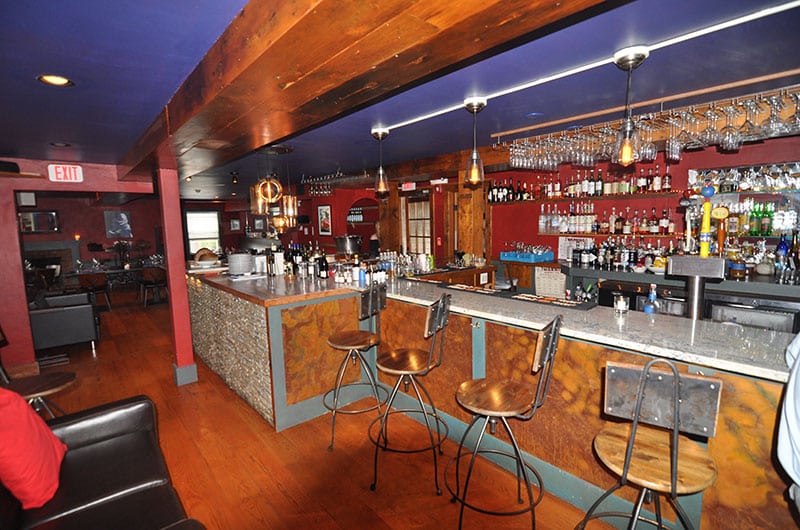 The bottle and can beer list has something for everyone, and there are draft beers from near and far on a steady rotation, so be sure to ask your server. The spirits section of the menu is awesome and overwhelming all at once, and the bartender, David, knows how to put them all to work. We ordered a few of his choice cocktails to get us started.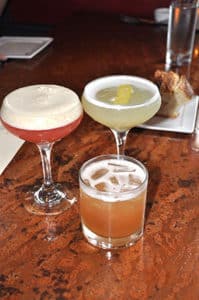 The Pirates Paradise is made with Privateer rum, distilled just over on the mainland in Ipswich, Massachusetts. It combines house-made pineapple shrub with fresh lime and bitters. It's oaky, smoky, with a nice kick of subtly sweet pineapple. Our second choice was Le Playa, a tequila-based cocktail made with Exotica Reposado, Cynar liqueur, fresh lime, and chili pepper. This libation manages to pull out all the flavors one would find in a fine Tequila and highlight them in harmony. Our favorite, though, was The Dorothy Stover. It's a gin drink made with Beefeater, St. Germain, bitters, and fresh lime complete with a tableside IPA grapefruit foam. As they say at ATLAS, it's truly "TO DIE FOR!"
ATLAS is so much more than dinner and drinks. There are DJ events every Saturday at 10 pm, and, better yet, there's no cover charge. They also periodically host tasting dinners, or "Casual Encounters." Watch for the upcoming event with Caledonia Spirits and their Barr Hill line of spirits, distilled from 100% pure Vermont honey.
Every dinner at ATLAS begins with warm, steamy, fresh baked bread, accompanied by olive oil and wild rose salt from Ambrosia for dipping. It's crusty, warm, dense, and the perfect way to begin a meal.
 Click images to view enlargements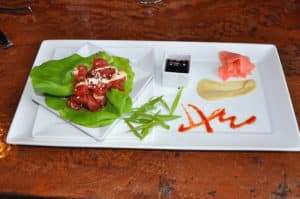 Everything that comes out of the kitchen is made from scratch daily. There are never any corners cut at ATLAS. Out of all the mouthwatering appetizer selections we were able to narrow it down. It was one of the hotter days in August so we started with the Tuna Tartare. Ruby-colored cubes of tuna sit atop fresh, green bib lettuce, drizzled with dynamite sauce and sprinkled with sesame seeds. It's served with pickled ginger, soy sauce, and real wasabi mustard on the side. Fresh, cool, and delicious. (Suggested pairing: Leeuwin Estate Australia Sauvignon Blanc)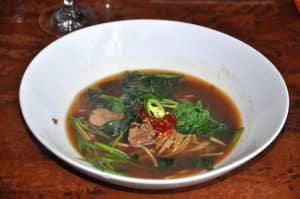 To contrast the tuna, we tried the Chinese Beef Short Rib Hot Pot. The broth is rich and savory with a slightly nutty nose, the beef had the perfect amount of fat and the noodles were a flawless al dente. Chili-heads rejoice because this one is on the spicy side! (Suggested pairing: Sunset Margarita w Ambrosia Hibiscus Infused Tequila)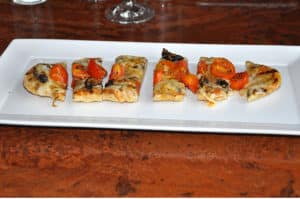 The Grilled Pizette came with the perfect blend of melted Fontina and Romano cheeses, along with bright and acidic cherry tomatoes that were the perfect compliment to the wild mushrooms. We like this appetizer for sharing — it makes a great bar snack. (Suggested pairing: Alagash White Beer)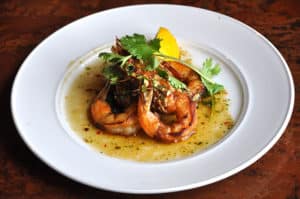 Our favorite starter was the Louisiana Wild Caught Prawns. The cook was dead on: crispy skin and sweet, tender meat. The garlic chili aioli was the perfect accompaniment. These are not a regular menu item and the season is coming to a close, so get them while you can! (Suggested pairing: The Dorothy Stover)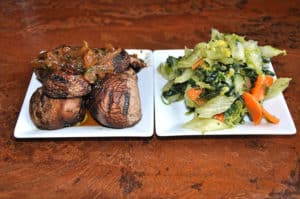 The menu options are incredibly diverse, and there are plenty of choices for the vegetarians among us. There are several side options to choose from to order with your entrée or just to have as a snack, all of which are meatfree. We went with the Grilled Crimini Mushrooms complete with a warm lemon vinagrette, and the house-made Bird Pepper Fermented Kimchi. Both were delicious and paired well with our choice of entrées.
Speaking of entrées, our first choice was the Churrasco Skirt Steak. The thinly sliced strip of beef was seasoned with garlic and red wine then grilled to absolute perfection. The char was just right and a Brazilian chimichuri sauce was the ideal topping. The steak was served with a chilled vegetable salad consisting of roasted broccoli rabe, cauliflower, and new potatoes. (Suggested pairing: BBC Drookit Scotch Ale)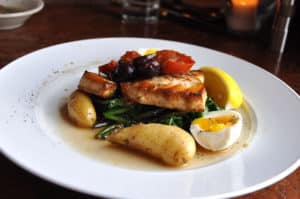 Next we had the Swordfish Nicoise, a variation on the dish traditionally made with tuna. The pan-roasted classic was served over wilted spinach with grilled French beans, creamy fingerling potatoes, medium-boiled local egg, topped with roasted tomatoes, olives, and a warm lemon vinaigrette. It's the perfect meal for a summer by the sea. (Suggested pairing: NOLA Sour cogna, bitters, lime and vanilla)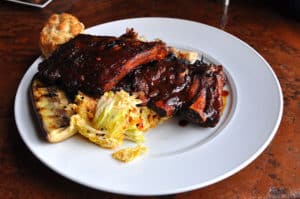 There's no way we were going to skip the House Smoked Baby Back Ribs. The meat was fall off the bone and moist, smothered in house made ATLAS BBQ sauce. The ribs came with a tangy sesame slaw, a cheese biscuit, and perfectly simple rice and beans. (Suggested pairing: Daniel Cohn Cabernet)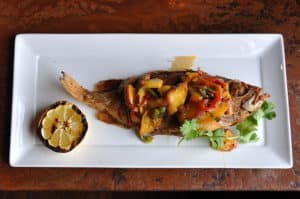 The winner of the evening, though, was the Pan Roasted Acadian Redfish. Served whole in all its glory, the meat was flaky and succulent, decked out with a smoked peach salsa. This dish was an absolute treat! Whole fish is a regular item on the menu at ATLAS, but the type of fish and the preparation varies. Call ahead to find out what's being offered. (Suggested pairing: Paul Hobbs Chard)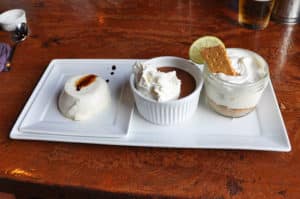 With such delicious appetizers and entrees, we couldn't possibly pass on dessert. Co-owner Gabrielle Gould honed her skills working with renowned pastry chef Johnny Luzzini, and lucky for us she brings her talent to the table at ATLAS. There are three options on the menu: Lavender Infused Chocolate Mousse (left), Vanilla Panna Cotta with Reduced Balsamic (center), and the Deconstructed Key Lime Pie "Cocktail" (right). The mousse came with fresh cream and was as smooth as can be. The panna cotta was cool and creamy and the balsamic reduction was eye opening. The deconstructed key lime pie was sweet and tart; the ultimate palate cleanser.
Drinks, dinner, and dessert were all flawless, and the service from our waitress, Shannon, was on point. Next time you plan to eat out, skip the downtown traffic and get yourself to ATLAS. Brandt and Gabrielle's goal from the beginning was to create a place they would like to eat at. The best part is that you can, too.
Atlas
130 Pleasant Street • 508-825-5495 atlasnantucket.com
Dinner nightly from 6 to 10 pm
Dinner entree prices range from $26 to $32
Call for receptions and private celebrations
Take-Out Available Full Bar
Major Credit Cards Accepted • Casual Attire