A.K. Diamond's – The Rebirth of an Island Favorite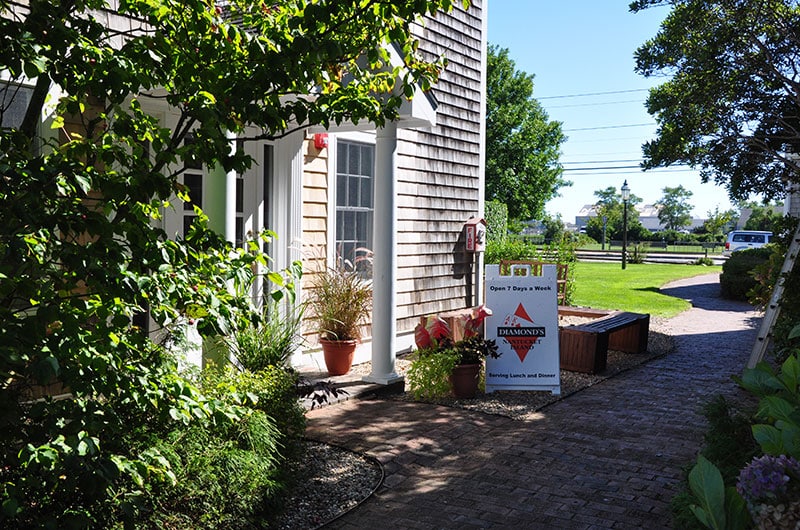 Jeanne and Richard Diamond have been part of Nantucket's vibrant restaurant scene for decades, first working at and then operating and owning some of the island's favorite eateries: The Mad Hatter, Arno's, and finally purchasing the property they transformed into A.K. Diamond's.
They completely refreshed their neighborhood watering hole just a few years ago. Then in February of 2014, on one especially cold night during that unusually frigid winter, pipes on an upper floor burst, sending water cascading throughout the restaurant, flooding the entire first floor.
After 17 months of work, they reopened this July 4th weekend. Now that the season has faded from summer frenzy into autumn serenity, we finally made it back to AK's for dinner.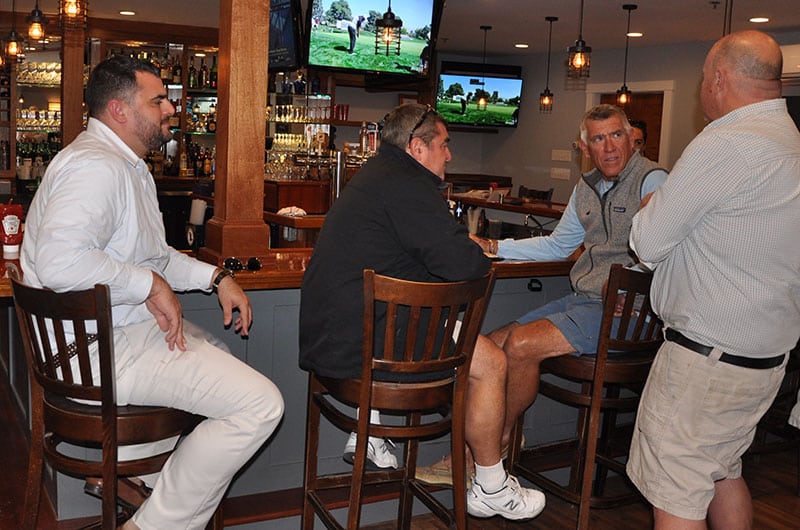 The new decor is cool and casual. The bar is still front and center—it's a spacious wrap-around party, especially when there's a game on. Televisions are strategically placed so everyone seated at the bar and the surrounding tall tables has a good view. Before or after the big game, there's always friendly chatter. Renee and Dave are back behind the bar at AK's along with several other new and personable bartenders serving up a great selection of beers and a tempting selection of cocktails.
If you don't want to be that close to the action, there is a dining area that is set off but not completely separate from the bar area and an outdoor patio. The new AKs is on a single floor, the old upstairs dining room converted into two apartments for employees.
Chef Jeanne Diamond has designed a new streamlined menu with Chef Jermaine Scarlett, who cooked alongside her for several years. A number of patron favorites are still being offered and some delicious new plates introduced. They're emphasizing fresh meats and produce, with everything made on the premises—they're even smoking their meats in-house. "We like knowing exactly what's in every dish," Scarlett explained. Wings, burgers, and finger foods are still served, along with salads, soups, sandwiches, and (starting at 5 pm), dinner entrees.
Many of the new menu additions feature whole grains and healthier preparations. Food is well-prepared and served in generous portions. We left our dinner last week with enough to feed all four of us another dinner.
Click images to view enlargements
Nantucket Quahog Chowder is a fixture on the menu. It's a New England classic, freshly made, creamy and full of tender clams, potatoes, and celery with just the right amount of bacon. In addition, each evening there is a Chef's Specialty Soup, made fresh each day and simmered to potent, full bodied flavor. We sampled the Beef Vegetable Soup, a hearty broth chock full of beef, mushrooms, and vegetables as satisfying and comforting as a warm hug on a cool autumn evening. We could have paired this soup with one of AKs salads and been contented.
Pub fare favorites still have a place on the menu at A.K. Diamond's. Their Wings are as crisp and meaty and flavorful as we remember: Buffalo or J.T. Wings with blue cheese dip are offered with and a very tasty new version, Smokehouse Wings with jerk sauce.

And their Burgers are as well done as ever, formed with a special grind of certified Angus beef and served on soft brioche rolls with a whisper of sweetness. You can build your own burger with half a dozen toppings in addition to the basic lettuce, tomato, and onion. Seven House Burgers are offered, including a Turkey Burger, a Black Bean Veggie Burger, and a Pulled Pork Burger. The Peppercorn Burger with its triple hit of pepper—freshly ground black pepper, jalapeno, and pepperjack cheese—comes highly recommended. Chef Scarlett describes it as "spicy but not out of control." But if you have the appetite, go for the Big Boy. It's a full pound of ground beef in two thick and juicy patties layered with cheese and bacon.

We also recommend the Short Rib Grilled Cheese from their "Hand Helds." It's a combination of two comfort food favorites: rich, savory shreds of short rib and melted fontina, with onion jam adding a touch of sweetness.
Many of the sandwiches and burgers come with chips or fries. The fries here are superb and something we sorely missed during the closing—hot, salty, doubly crisp outside and fluffy inside—but the housemade Onion Rings are our new favorites. Scarlett hand-dips thick slices of sweet onions in their own recipe beer batter, and fries them to order. The crunchy batter forms nooks and crannies that hold the ranch sauce served alongside.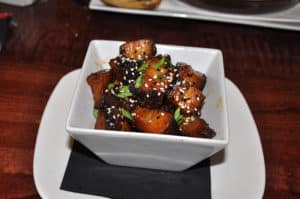 From the new items at AK's, we adore their Fried Pork Belly, house smoked and cut into bite-sized cubes of bacony richness lacquered with a soy-chili glaze that adds a whisper of heat. Dip down to the bottom of the bowl for more of the glaze.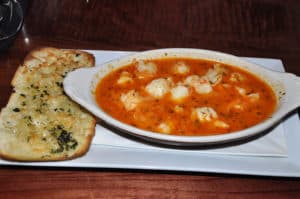 The Cajun BBQ Shrimp is deliciously different. Morsels of plump shrimp are served in a pool of peppery, buttery sauce. We would have liked some rice to mop up the luscious sauce, but then this appetizer would be an entree, so we settled for using the grilled garlic bread to soak up what we could.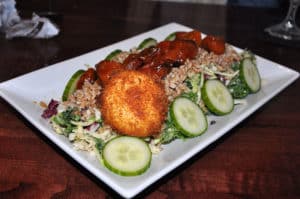 AK's has a seven fresh salads that can begin your meal or be your meal: you can add chicken, salmon, steak, shrimp, or burger to any of the salads. We were very pleased they kept their Apple Cranberry Salad on the new menu. This mix of romaine and arugula, dried cranberries, candied walnuts, crumbled gorgonzola, and fresh crisp apple tossed with maple-cider dressing hits all the right notes with its sweet-savory balance, soft-crunchy-crisp textures. But we may have found a new favorite with their Super Food Salad. (shown) We're not sure if the "super" is editorial or descriptive, but either way it fits! The first layer is a crisp mix of kale, broccoli, brussel sprouts, red cabbage, and other greens tossed in a tasty mustard vinaigrette. Tender farro, cooked and chilled is spread across the top, finished with sweet roasted tomatoes. Cucumber wheels are set alongside, and a generous disc of goat cheese, breaded and fried to a tempting golden brown is the final touch. We barely made a dent in this enormous salad, and it was as good the second day as it was when served.
AK's Seafood Bowl was brought back by popular demand. A superb and fragrant showcase of sweet and savory, this entree is full of moist scallops, tender lobster meat, and plump shrimp, all folded into a Malibu Rum cream sauce with English peas, garlic, tomatoes, onion, and herbs. The sweet sauce highlights the seafood, without making it too sweet. A tangle of linguini is tucked underneath and toasted coconut is sprinkled overtop.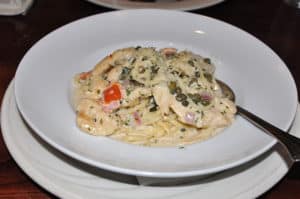 Chicken Piccata was an evening special last week, and we'll take the opportunity to officially request this delightful well-balanced dish be added to the regular menu. Sauteed chicken tenders are folded into a creamy sauce with bright pops of flavor from lemon and capers and served over linguini. It's hearty and very satisfying!
If you're hungry for barbecue, come to AK's and start with the Smokehouse Wings and continue with their BBQ Smoked Pork Ribs. The ribs are deliciously caramelized and crisp on the edges with the meat so tender that a gentle tug is all it takes to pull it off the bone.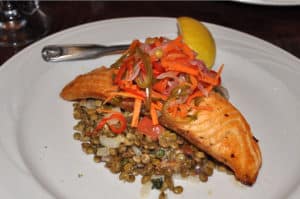 Our table favorite last week was the Pan-Seared Salmon. The cook on the fish was perfect: slightly browned and cooked through but a moist and flaky medium rare in the middle. An herb butter melts lusciously over the salmon, dripping onto the bed of creamed lentils underneath, and an assortment of pickled vegetables brightens the dish.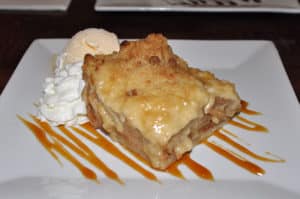 Desserts at A.K. Diamond's are all made in-house. Their old-fashioned Apple Crumble is a taste of fall with its warm and cinnamon-scented apple filling and sweet topping, christened with a scoop of vanilla ice cream.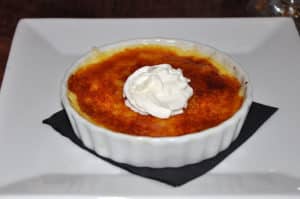 The Creme Brulee is a classic well done, with brittle caramelized sugar topping covering a silky vanilla custard…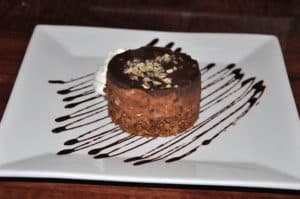 Chocolate lovers hit the jackpot with two choices: a Chocolate Hazelnut Mousse with a base of chocolate krispies and a satiny ganache on top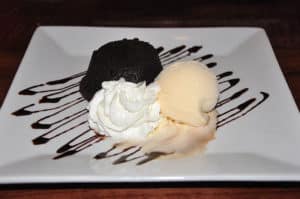 …and a Molten Chocolate Cake that is simply delicious.
Welcome back Jeanne, Richard, and Jermaine—you'll be seeing a lot more of us soon!
A.K. Diamond's
16 Macy Lane • 508-228-3154 • akdiamonds.com
Open daily from 11:30 a.m., serving continuously to 9 pm
Dinner entrees range in price from $15.99 to $32
Autumn Specials soon to be announced
major credit cards accepted
families welcomed • all menu items available for take-out
indoor & outdoor dining • handicap accessible • full bar
plenty of off-street parking – NRTA shuttle stop across the street